[October 23, 2012]
Send a link to a friend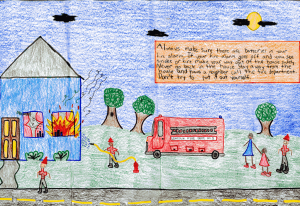 Monday was third-grader Mya Brownlee's special day. She was the one chosen as the winner of the fire safety poster contest from among all the students in her grade level in all of the Lincoln schools.
Mya is the daughter of Malissa and Gary VanDeursen of Lincoln and attends Northwest School
Mya was picked up at her home by firefighter Chris Perrine and Assistant Fire Chief Steve Dahm in a Lincoln fire truck.
Accompanying her on her ride were her little sister, Holly, who is in kindergarten, and her dad.
When she arrived at school, several schoolmates were in awe of her arrival in the big red rig, and her teacher took numerous pictures of her, her sister and the firefighters all standing by the fire truck.
Mya's ride was the last one for this year. The fire department will host the contest again next October during Fire Safety Month and will have a whole new set of winners.
Also going on this month have been firefighter visits to city schools. The final visit for this year will be today at Washington-Monroe School.
Pictures by Nila Smith