Sophomore Maddy Cooper came in 21st with a personal best time of 19:33. Junior Brianna Batley finished in 34th with a personal best time of 21:39. And freshman Kiersten Prater finished in 43rd place with a time of 22:49.

John Davis, Jake Day and Andrew Wibben advanced to sectionals as individuals. Davis, a senior, ran his best race ever with a time of 15:30 and finished in eighth place. Day, a junior, finished in 45th with a time of 18:00, and Wibben, a sophomore, also ran his best race with a time of 18:15, shaving off a whole minute from his previous best time.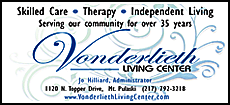 LCHS coach Kaitlin Kwiatkowski commented: "Everyone really came out to perform this weekend at regionals in Jacksonville, and I could not possibly be any more proud of them. The team has improved and accomplished so much this season, and I can't wait to see how they do next weekend in Decatur. Best of luck to all of them."
[Text from file received]