James Wright, the author of "Those Who Have Borne the Battle: A History of America's Wars and Those Who Fought Them," will speak at 7 p.m. Nov. 14 in the Union Theater at the presidential museum. A book signing at 6:30 p.m. will precede the discussion.

From 5:30 to 6:15 p.m. Wright will discuss his book in a Teacher Talk session at the Abraham Lincoln Presidential Library. Illinois teachers of grades K-12 will receive three continuing professional development units for attending both sessions.

Both sessions are free and open to the public, but reservations should be made by calling 217-558-8934.

"Those Who Have Borne the Battle" is a New York Times Book Review Editors' Choice. The book, released this spring, has been described by Kirkus Reviews as "an astute view of America's enthusiastic but often-unrealistic attitude toward those who fight its wars."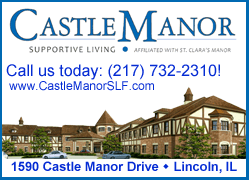 Wright's book is one of the first to focus on the experience of veterans throughout this country's history, from the American Revolution to the war in Afghanistan.
"It's a study about what Americans have thought about war, how we have mobilized for war and how we've treated the people who have fought the wars," said Wright. "We need to talk about and understand a subject that is too often ignored -- the nature of war and our long-term obligation to those who volunteer to fight our wars, an increasingly small and unrepresentative sector of our population."
Focused on the experience of this country's veterans and America's treatment of them, Wright's book title is borrowed from Abraham Lincoln's Second Inaugural Address: "With malice toward none, with charity for all, with firmness in the right as God gives us to see the right, let us strive on to finish the work we are in, to bind up the nation's wounds, to care for him who shall have borne the battle and for his widow and his orphan, to do all which may achieve and cherish a just and lasting peace among ourselves and with all nations."
James Wright is president emeritus of Dartmouth College and is the Eleazar Wheelock Professor of History at the college. The son of a World War II veteran, Wright grew up in Galena, joined the Marines at 17 and served three years, primarily with the 1st Marine Brigade in Hawaii and Japan. He earned a Ph.D. at the University of Wisconsin, Madison, became a history professor at Dartmouth College in 1969, and served as president of Dartmouth from 1998 to 2009. Since 2005 he has visited military hospitals and has worked to establish educational counseling programs for wounded veterans.
Visit www.presidentlincoln.org for more information about exhibits, events and programs at the Abraham Lincoln Presidential Library and Museum.
[Text from file received from the Illinois Historic Preservation Agency]