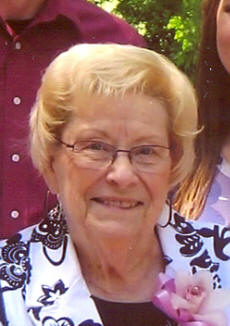 Winifred 'Winnie' Trapp
[October 26, 2012] LINCOLN -- Winifred Dell "Winnie" Trapp, 85, of Lincoln, died Thursday, Oct. 25, 2012, at 3:25 p.m. at Abraham Lincoln Memorial Hospital.
(Below is a copy of the obituary from the funeral home.)
___
LINCOLN-Winifred Dell "Winnie" Trapp, 85, of Lincoln died at 3:25 p.m. on October 25, 2012 at Abraham Lincoln Memorial Hospital, Lincoln.
Winifred was born on July 21, 1927 in East St. Louis, IL the daughter of Fred and Trudy Smith Bierman. She married Dr. Robert N. Trapp on February 14, 1961 in Lincoln, IL. He preceded her in death.
Mrs. Trapp is survived by three daughters: W. Kathleen (Chuck) Kilhoffer of Buffalo; Lydia Trapp of Mt. Pulaski; Linda (Dan) Splain of Lincoln; two sons: Tim (Linda) Harmon of Pleasant Plains, IL; R. Michael (Debra) Trapp of Tinley Park, IL ; one stepson: Dr. Robert G. Trapp of Springfield, IL; 22 grandchildren and 16 great grandchildren.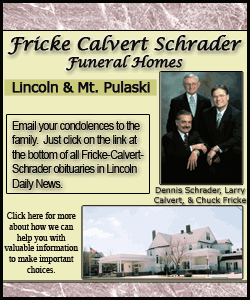 She was preceded in death by her parents; husband; son: Peter Cameron Trapp; three sisters: Viola Rickey, Helen Hoef and Alta Osborne; one stepdaughter: Janet Reinecke and one stepson: William F. Trapp.
Winifred was a homemaker and member of Immanuel Lutheran Church and the Lincoln Woman's Club.
Services will be held at 10:00 a.m. Monday, October 29, 2012 at Immanuel Lutheran Church with Rev. Robert Henderson and Rev. Thomas Kamprath officiating. Burial will be in Old Union Cemetery. Visitation will be Sunday, Oct. 28 from 3:00-6:00 pm at Fricke-Calvert-Schrader Funeral Home, Lincoln. Memorials may be given to Immanuel Lutheran Church or Lincoln Woman's Club or Oasis Senior Citizen's Center.