Flu facts
From the Logan County Department of Public Health

Send a link to a friend
[October 29, 2012] The single best way to protect against seasonal flu and its potential severe complications is to get a flu vaccine every year. Are you or a member of your family at increased risk of getting the flu or experiencing flu-related complications? Although the flu vaccine is recommended for everyone 6 months of age and older, the following groups are at increased risk of getting the flu or experiencing complications related to the flu.
Children are at higher risk for the flu because their immune systems are not fully developed. Children with chronic health conditions are at even higher risk.

Changes to a pregnant woman's immune system can make her more sensitive to the flu. If you get the flu shot during pregnancy, it will provide some protection to your baby after he or she is born.

Because your immune systems weaken as you age, adults age 65 years and older are more susceptible to the flu.

Not everyone with disabilities is at high risk for the flu. You are at high risk if you have limited mobility, may come in contact with a sick caregiver or are unable to communicate your symptoms.

Certain types of inflammatory arthritis, asthma, having or surviving cancer, diabetes, heart disease and HIV/AIDS are all types of chronic health conditions that increase the risk of getting the flu or experiencing complications from the flu.
The hours for vaccines at the health department are Monday through Friday, 7:30 a.m. until 4 p.m. No appointment is required. The influenza vaccine will also be available on the HOPE Mobile during its regularly scheduled stops.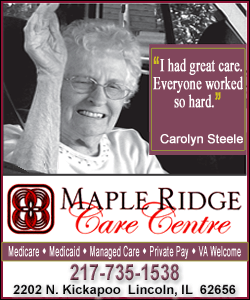 The cost of the seasonal flu shot is $25 for adults, $16.75 for children 6 months through 18 years of age who have no health insurance or health insurance that doesn't cover vaccines, and free to those with a Medicaid or Medicare card.
For more information on the seasonal influenza vaccine, call the Logan County Department of Public Health at 217-735-2317.
For more information, visit www.flu.gov and www.lcdph.org.
[Text from file received from the Logan County Department of Public Health]