Drought prompts IDOT to permit hay loads on interstates
Temporary measure boosts efficiency, logistical support for agriculture industry

Send a link to a friend
[September 04, 2012] SPRINGFIELD -- On Friday, Illinois Transportation Secretary Ann L. Schneider announced a new policy that allows farmers and other agriculture industry workers to transport hay loads of up to 12 feet in width on all state routes, including interstates. The summer drought adversely affected the production of hay due to pasture conditions, and this action will significantly improve efficiency in the processing and transportation of hay throughout Illinois.
Previously, farmers were permitted to transport hay loads up to 12 feet in width on state roadways, but this did not include the use of interstates.

"Coming from a farming community, I understand the severe challenges and unpredictability the weather can have on the overall production demands of the agricultural industry," said Schneider. "This crucial temporary change in policy equips farmers and truck operators with a special opportunity to cut transportation costs and travel times throughout the remaining harvesting season."

A copy of the official authorization must be in possession of the operators as they move hay loads and will need to be available upon request by law enforcement or the Illinois Department of Transportation. In addition, vehicle owners and operators would take responsibility for any damage caused directly or indirectly by the movement. All loads more than 8 feet, 6 inches in width, allowed during specific time periods, must display operable oscillating, rotating or flashing amber lights. "Oversize load" signs are mandatory on the front and rear of all vehicles with loads over 10 feet in width.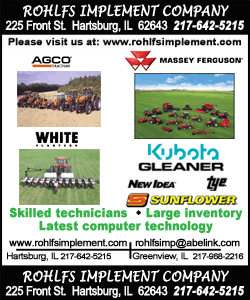 "The Department of Agriculture appreciates and fully supports efforts such as this to assist our farmers during this prolonged drought and early harvest season," said Acting Director of Agriculture Bob Flider.
This authorization is effective immediately and expires Dec. 31.
To access IDOT's official notice or to view additional guidelines on this opportunity, visit http://www.dot.il.gov/road/overweight.html.
[Text from Illinois Department of Transportation file received from the Illinois Office of Communication and Information]