Lercher is well known for his contributions to the game of softball in Lincoln. He has coached at Lincoln Junior High School for eight seasons and was the assistant varsity softball coach at Lincoln Community High School from 2002 to 2008. He also was the president of the Lincoln Chill program from 1999 to 2005 and coached within the program from 1999 to 2006. His experience, background and knowledge of the game will be a welcome addition to the LC softball coaching staff.

Lercher is a native of Lincoln, where he graduated from Lincoln Community High School. He attended Lincoln Land Community College, focusing on business management.

He resides in Athens and is currently working for the Army National Guard.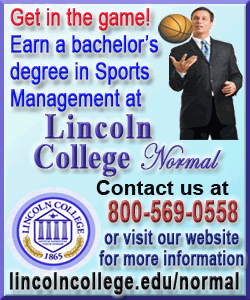 He has two children: James Lercher and Desirae Lercher of Lincoln. Desirae played softball in Lincoln schools and in the Lincoln Chill program. She holds multiple pitching records at Lincoln Community High School and also pitched for the Lady Lynx. Currently, she is studying at ISU-Mennonite School of Nursing as she works toward becoming a registered nurse.
[Text from file received from Jeff Nelson, Lincoln College sports information director]