Park district notes
From Roy Logan, program coordinator

Send a link to a friend
[July 31, 2012] The Lincoln Park District will offer horseback riding lessons in conjunction with Breezy Bluff Riding Academy, McLean. Participants will meet at the stable for four Saturdays in September, beginning on Sept. 8. First- through fourth-graders will have instruction from 9 to 10 a.m., and fifth-graders through adults weighing less than 285 pounds will have their session from 10 to 11 a.m. This class is designed to serve both English and Western riders for beginner or intermediate students.
Students should be dressed in long pants, no necklaces or bracelets, and proper footwear is hard, smooth-soled shoes or boots with at least a half-inch dropped heel. Do not wear tennis shoes or flip-flops.

Registration will open on Monday, Aug. 6, and will be on a first-paid, first-served basis with a waiting list. There is a class minimum of five and a maximum of 10 in each session. Sessions may be combined based on participation. Early registration is strongly encouraged.

___

Lincoln's second annual Sidewalk Chalk Art Exposition will be on Thursday, Aug. 23, in downtown Lincoln. Artists of all ages and abilities are invited to join the city of Lincoln and the park district as they combine their efforts to make something beautiful and interesting. The artistic talents will be displayed just before Lincoln opens its doors and greets the crowds for the art and balloon festival weekend.

Registration forms will be available at the park district until Sunday, Aug. 19. Participants may create their designs on Aug. 23 between noon and 8 p.m.

Squares of sidewalk will be numbered and reserved. Each space is $10, and a container of chalk and hairspray sealant will be provided. Enter as an individual or as a team of two people or more.

Thanks to sponsors of this event: Culver's, Hampton Inn, Sugar Creek Orthodontics and Memorial Home Services.

___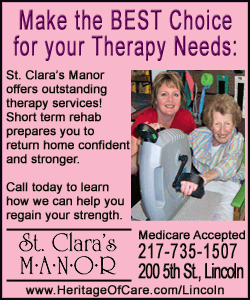 The park district is introducing a Family Fitness class on Saturday mornings at 8:30 to 9 a.m. This class is tailored with families in mind and is a great way to start off the weekend with safe, fun and effective exercises or dances set to energizing, family-friendly music. Children between the ages of 4 to 17 are welcome and must be accompanied by a parent. The use of hula hoops, stability balls, small free weights and bands may be included in the program. There is no charge for Fit Zone members and family members. If bringing a nonmember guest with your family, the cost is $2 per guest with a Fit Zone member. For nonmembers, the cost is $5 per class for a family of four, and each additional family member is $2. Join Jacki and Heather, mother and daughter instructors, for this fun-filled half-hour. Some restrictions may apply.
___
A great new addition to the membership packages at the Lincoln Park District Fit Zone is a one-month full-access pass. This pass includes all cardio and weight equipment, basketball-volleyball courts, and all scheduled fitness classes. as well as a discounted tennis court fee. Fitness classes include Fit for Seniors, Pilates, Zumba, Kickboxing, Spin, Pump & Sculpt, Interval and more.
[Text from file received from Roy Logan, Lincoln Park District]