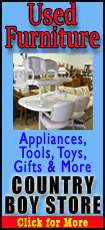 1. THE 'MOM IN CHIEF' KICKS OFF DEMOCRATIC CONVENTION
First lady praises Obama as a "man we can trust."
2. WHY OBAMA CHOSE CLINTON FOR NOMINATION SPEECH
Both benefit, AP's Beth Fouhy explains: The president gets validation from a highly popular Democrat and the ex-president returns to center stage.
3. SCIENTISTS COMPILE ENCYCLOPEDIA OF THE GENETIC CODE
It's the biggest effort ever at figuring out the secrets behind the miraculous workings of the human body.
4. THE NATIONAL DEBT: OVER $16 TRILLION
That's the word from the Treasury Department, and it means another round of trying to raise the government's borrowing cap.
5. WHERE A TEEN WITH DOWN SYNDROME WASN'T ALLOWED
American Airlines says he "was not ready to fly," but his family calls it discrimination.
6. SPAIN LIFTS BAN ON TELEVISING BULLFIGHTS
The first fight since the change airs Wednesday evening from the northern city of Valladolid.