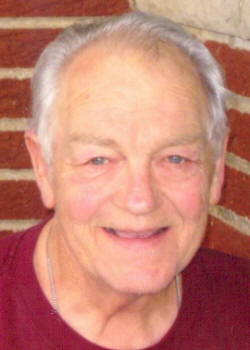 John 'Jack' Barrick
[September 04, 2012] LINCOLN -- John F. "Jack" Barrick, 68, of Lincoln, died Sunday, Sept. 2, 2012, at 6:30 a.m. at his home.
(Below is a copy of the obituary from the funeral home.)
___
Lincoln-John F. "Jack" Barrick, age 68, of Lincoln, IL, died at his home at 6:30 a.m. on September 2, 2012.
Jack was born on March 4, 1944 in Lincoln, IL, the son of Lewis A. "Zoo" and Mildred Feldman Barrick. He was married to Linda Sparks on January 13, 1968 in Lincoln, IL., she survives.
Jack is also survived by 2 daughters, Laura (Mike) Kavanaugh of Emden, IL and Christina (Marty) Clementz of Elkhart, IL, 1 son, John (Heather) Barrick of Lincoln, IL, 7 grandchildren, Sasha (Cory) Bruns of Lincoln, IL, Carissa Talkington of Bluffs, IL, Tanner Clementz of Elkhart, IL, Morgan and Erin Barrick of Lincoln, IL, Joe (Tiffany) Kavanaugh of Peoria, AZ, and Cathy (Derek) Hopp of Lincoln, IL, 9 great grandchildren, Brenley and Ashlan Bruns, Alivia Payne,
Coleton Hopp, Katie Aderman, Killian, Anya, Ainsley, and Daken Kavanaugh, 1
great great grandchild, Hunter Aderman. Jack is also survived by his step mother,
Docia Barrick, 1 brother, Ed Barrick, 2 step sisters, Kathy (Mike) Watkins and
Donna Remlinger, 2 step brothers, Donald (Linda) Daniels and William Daniels and several nieces and nephews.
Jack was preceded in death by his parents and maternal and paternal grandparents.
Jack attended St. Mary's Grade School and graduated from LCHS in 1962.
Jack worked on the family farm and at Barrick Transfer Company until joining the United States Marine Corps in 1966 and was in the Third Marine Division. Jack served 12 months and 26 days in the Republic of Vietnam and was promoted to Sergeant.
Jack purchased Barrick Transfer, a trucking business and beer distributorship in 1978, which later became Barrick Distributing, Inc. and retired in 2004.
Barrick Transfer at one time sponsored 21 bowling teams, enough to establish their own bowling tournament.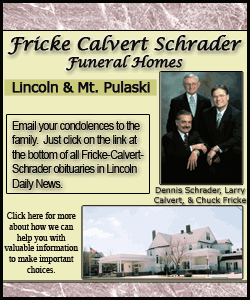 Jack was an East-Lincoln Township Road Commissioner for 4 years.
Jack was a member of Holy Family Church, Lincoln.
Jack was a lifetime member of Cronin Brothers Veterans of Foreign Wars #1756 in Lincoln where he served
as commander from 1970-1971, 1980-1981, and 1999-2011 and earned All-State Commander twice.
He also was a member of The Robert Graue Marine Corps League, American Legion Post #263, AMVETS, 40 & 8, Knights of Columbus 4th Degree, Associated Beer Distributors of Illinois-Retired and Eagles Lodge #2708 of
Lincoln, IL.
Jack roostered as a Lincoln Jaycee where he served as a director and was awarded Lifetime Member #4.
He served as a director for the Greater Lincoln Area Chamber of Commerce and was a member of the Teamsters Local #916.
One of Jack's loves in life was racing sprint cars from 1965 to 1975. Many
Lincolnites remember Jack's Black Deuce which had the most wins in the history
of the sprint car sport.
He and Linda were sponsors of the Abe Lincoln Grand Prix in downtown Lincoln and one of seven couples who founded the Abe Lincoln Quarter Midget Association. Jack served as president of Midwest Racing Association and a car owner in the United States Auto Club, Silver Crown Division.
Jack's funeral mass will be at 10:00 A.M. on Saturday, September 8, 2012 at Holy Family Catholic Church in Lincoln with Rev. Simon Taabu officiating. Burial
will be in St. Mary's Cemetery, Lincoln. Full military rites will be accorded by American Legion Post #263.
Visitation will be from 4-7 P.M. on Friday at Fricke-Calvert-Schrader Funeral Home in Lincoln, with a prayer service at 3:00 P.M. and a VFW ritual memorial service at 3:30 P.M. prior to visitation on Friday at the funeral home.
Memorials may be made to St. Jude's Children's Research Hospital, Midwest Affiliate or to Logan County Animal Rescue.