Bring your own lawn chairs, sit back, relax and enjoy a variety of musical styles and genres. This is a great way to get ready for the parade at 2 p.m. and all the other Atlanta Fall Festival activities on Saturday.

MusicFest 2012 will begin with the Central Illinois Jazz Collective, led by trombonist Tim Pitchford, from 10 to 10:45 a.m. The Route 66 Barbershop Quartet and the Kasa-Stephens duo with Broadway favorites will follow from 10:50 to 11:40 a.m. Something With Trees will perform from 11:45 a.m. to 12:30 p.m.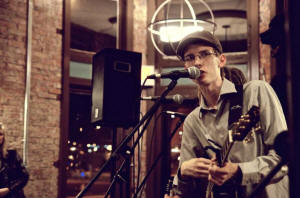 The unique sound of Something With Trees is driven by vocalist Brian Davis, whose musical storytelling captivates audiences of every age. Davis, who also plays guitar and harmonica, is joined by Collin Krause on violin, mandolin and vocals; Shaina Mattson on vocals; and Austin Thompson on drums. Rock? Bluegrass? Sixties folk? Come on out and be your own judge.
The Saturdays on the Lawn program is sponsored in part by the Illinois Prairie Community Foundation -- Jerome Mirza Arts and Culture Fund and the Jerome Mirza Foundation.
[Text from file received]