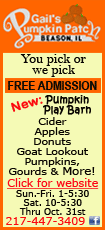 The area in question is west of Lincoln, bordered by 1400th Street and 900th Avenue, and measures 280 acres. The land is owned by Doug Muck. While it is in a flood plain, it is currently zoned special district and used for agriculture. A mining corporation would like to access it for mining limestone.

A mining operation has been located just west of the proposed location for over 30 years and is currently in the process of shutdown and reclamation of the land to a naturalized setting.

During the meeting, planning commissioners heard and saw presentations and arguments by current and potential landowners, surrounding landowners, and lawyers. Commissioners asked for clarifications and additional information throughout the evening.

The first guest to speak was Muck, a lawyer who is working with Hanson Materials, the company that wants to see the land rezoned. Hanson Materials also owned the previous quarry less than a mile away.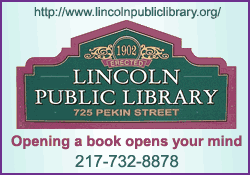 According to Muck, the land has been drilled over the past several years to determine whether or not it would be suitable for mining operations. It was determined that the area would be ideal for mining limestone.
Right now, those buying limestone have to pay extra costs to have the stone transported from surrounding areas.
Agricultural lime is important for farming, making soil less acid for better uptake of nutrients. It increases the quality of soil for growing corn and soybean crops, and Logan County uses a lot. It is applied by the ton per acre every five to six years.
Limestone is also heavily used in road-building.
Usage of land for mining is heavily regulated on a state level by the Department of Natural Resources. According to Muck, regulations are much tighter than they used to be concerning the use of explosives and other mining operations. The DNR also would regulate reclamation efforts in order to ensure the land is restored.
The proposed mining operation could last at least 16 years, barring a drop in demand for limestone and other rock.
Muck said the quarry would eventually likely become a large lake, and the surrounding area could become a wildlife refuge.
One of the concerns raised to Muck was the issue of drainage from a quarry and the impact on local water. Muck answered that the company would have to provide for storage for water that was drained due to mining. As to concerns with private wells, Hanson Materials has stated they are willing to drill new wells for citizens and provide compensation for damages if necessary. Ideally, drainage would empty into Salt Creek.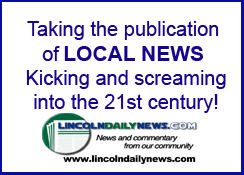 Muck later reiterated that the standards of mining facilities are much higher than in past decades. He said regulations would help to address the concerns of nearby citizens.
"If issues come up, this company (Hanson Materials) will address it and be responsible about it," said Muck.
Blaine Olson, a hog farmer working for the Klockenga family and living less than a quarter-mile to the east of the land in question, was present to argue why the land should be left as it is.
Olson began by saying that even though he has owned his property for four years, he has not been made aware of the drilling that was occurring the past six years and the changes the quarry would bring. His property is directly across from the proposed site.
Olson's first concern, should the mine open, is the use of explosives.
"They're going to be blasting one to two times a day, I seriously think it will affect our quality of life," said Olson.
The blasting, and the use of heavy equipment, could create dust clouds that would cover his farmland, and noise levels would rise substantially.
The corner connecting the two roads is also a concern for Olson.
"It's not the safest place to travel when the corn is up," said Olson. "Our boys will eventually get on a school bus twice a day, negotiating with 8,000-pound trucks, with everyone else's kids in the neighborhood."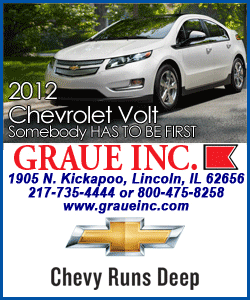 The intersection would not be very safe without necessary improvements.
Bret Aukamp commented that this would provide a good opportunity to improve that road, if Broadwell Township approves of it.
Finally, Olson worries about his property value falling, should a quarry move in next to him. Furthermore, he expressed disappointment in current reclamation efforts of the old quarry, calling the area an eyesore.
Olson was accompanied by Todd Turner, an attorney from Sorling Law out of Springfield. Turner presented photos of the land in question, including photos of the road corner and the previous mine. With a car pictured on the roadway, he proposed that it appeared too narrow for a car and truck to pass safely.
Turner said the application for the mine to "expand" is misleading. He had concerns that the mine might then gain latitude under the grandfather clause and might not be held to stricter new mining regulations. Turner argued that this would be more of a relocation than an expansion.
Turner also referred to potential traffic problems that would arise, as the amount of traffic could increase by several times over. This road is also the only way for people to get in and out of that neighborhood.
Turner also explained that he examined the current Logan County Comprehensive Plan and the Greenways Plan. Turner argued that under the Greenways Plan, this area is not consistent with industrial development.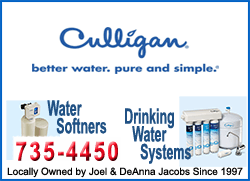 Finally, Turner argued that there is not enough information as to what makes the area suitable, aside from the fact that there is lime present.
Olson is also working with Mike Rapps, an engineer from Rapps Engineering in Springfield. Rapps took a cursory look at the land to determine the feasibility of such a project from an engineering standpoint.
Rapps provided a map revealing that the land in question is part of an aquifer containing a lot of water. Furthermore, there are a number of wells nearby that may be affected. Rapps also pointed out that the quarry would have to be drained every day to get to the rock, which could affect the composition of nearby bodies of water.
Commission member Derrick Crane noted that if there are so many negative aspects to this project, would the DNR even approve?
Turner answered that while he did not know for sure, he believes the DNR would request more information on the land before granting any permit.
Referring to the proposed 16 years of daily mining operations, Don Ludwig, who lives near the proposed site, commented: "This is a long period of time for such a disruption. I would want some assurance that it's going to be operated differently from the current quarry, but this is characterized as an expansion."
Ludwig also agreed with Olson that the current reclamation efforts have left an eyesore, and he is worried it could happen again.
After comments from the public concluded, the commission confirmed that such a change is in line with the comprehensive plan. The issue will move on to the zoning appeals board.
There is a scheduled public hearing tonight at 7:30 in Broadwell with the appeals board. At this meeting, there would be discussion of the potential road issues that may arise.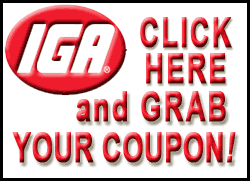 Planning commission members present were Bill Graff, Lincoln Mayor Keith Snyder, Blair Hoerbert, Mount Pulaski Mayor Jim Fuhrer, Bill Martin, Atlanta Mayor Fred Finchum, Dave Hepler, Dean Sasse, Gerald Lolling and Derrick Crane, as well as zoning officer Will D'Andrea and county highway engineer Bret Aukamp.
[By DEREK HURLEY; LDN]