[September 10, 2012]

Send a link to a friend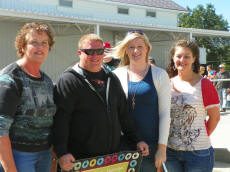 As the kiddie tractor pulls were going on, so was the chili contest. Seven participants prepared their special recipe of chili and brought it to the blind tasting.
Soup was scooped into bowls and delivered with only a number to the judges. There was also an opportunity for the audience to participate. By paying $2, audience members bought the opportunity to participate in the "people's choice" vote.
In the end, Christopher Urish took first place (pictured second in the photo to the left); Donna Vaughn (pictured to the left of Christopher) took second place; and the people's choice award went to Hailey Vogel and Julie Koontz.
Pictures by Nila Smith