Park district notes
From Roy Logan, program coordinator

Send a link to a friend
[September 14, 2012] The Lincoln Park District is hosting its second annual Family Fun Run 5K and two-mile walk on Saturday, Oct. 20. Registration for both events begins at 7:30 a.m., with race time at 9 a.m. The 5K run will take place on a marked course using the roadway. All participants will receive a keepsake photo and post-race snacks. Cost for a family of four is $20.
Itís time for fall coed volleyball already. Get your roster information at the front desk at the park district. Rosters and waivers should be returned by Tuesday, Sept. 25, along with the appropriate fees. Games will be played on the indoor court in the SportsCenter on Tuesday nights. Game times are expected to be 6:30, 7:30 and 8:30 p.m. Beginning Sept. 23, teams may practice on Sunday evenings for one-hour intervals between 5 and 9 p.m. Call Christine between 8 a.m. and 4 p.m. Monday through Friday to reserve your court time.

The park district has partnered with the city of Lincoln and Main Street Lincoln to bring the public an afternoon of fun with a great Halloween theme on Saturday, Oct. 27. Organizers plan to kick off the activities in midafternoon with "Trick or Treat with the Mayor" as he and the kids start their walking tour of participating downtown businesses.

Following that, the park district will offer its first "Trunk or Treat" costume parade and a chili cook-off. All of this is on Saturday, Oct. 27, in downtown Lincoln.

"Trunk or Treat" is an event allowing individuals, businesses, clubs and other civic organizations an opportunity to decorate their vehicle with a Halloween theme and dispense candy from their trunks. Load the trunk full and watch for the scary monsters and goblins to wander by.

Pulaski Street, on the south side of the courthouse, will be blocked off, and the park district will host the event there. The park district asks vehicle owners to register for a free spot on the square so they will be prepared. While the spot is free, the occupants are expected to provide treats that are store-bought and individually wrapped. This will begin at 4:30 p.m., with spot setup earlier, and end at 7:30 p.m.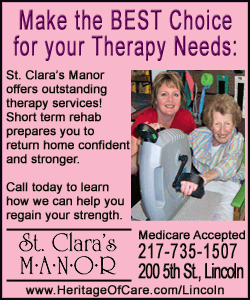 Do you have the best-ever chili recipe? If so, register at the park district for the "Great Chili Cook-Off." This fun but competitive event will be hosted on McLean Street, on the east side of the courthouse square. Bring your "A" game because the judging panel will be made up of highly esteemed officials from Lincoln. There will be samplings for the public to purchase, and more information will be available in upcoming news releases. There will be a registration fee for the entrants, and prizes will be awarded.
Halloween FunFest will be on Tuesday, Oct. 30, at the park district. In coming weeks, there will be more information on that "frightastic" night.
[Text from file received from Roy Logan, Lincoln Park District]