The Liftoff program is funded by the Woods Foundation and administered by the Academic Development Institute.

Devotions for the meeting will be given by Marilyn Maffett. Judy Lumpp and Mary Boatman will be greeters, and Judy Fairfield and Carol Farmer are in charge of social arrangements.

In other Woman's Club news, members will meet at 3 p.m. Monday on the steps of the building to ring bells for 200 seconds in observance of the completion of the U.S. Constitution.

An activity day is planned for Sept. 25 from 10 a.m. to 2 p.m. Members will accept donations from the community for the club's Operation Santa project for military personnel serving far from home. Donations of food items, toiletries, personal items and money for postage are being accepted.
---

LCU athletics to host golf scramble
The Lincoln Christian University Athletic Department will host its second annual Athletic Department Golf Scramble on Oct. 5 at the Lincoln Elks Golf Club. The shotgun start will be at 10 a.m.
Each participant's donation to the LCU Athletic Department will include 18 holes of golf with cart, meal, prizes and an update on the status of the athletic programs at LCU.
The cost is $75 per person and $300 per team.
The deadline for registration is Sept. 28. Participants can register and pay online or mail the registration form and check to:
Lincoln Christian University
Attn: Mac Ingmire
100 Campus View Drive
Lincoln, IL 62656
For more information, contact Mac Ingmire at 217-732- 3168, ext. 2224, or at mingmire@lincolnchristian.edu.
---

Lincoln Christian Church presents 20th Musical Offering for World Hunger

This year's Musical Offering for World Hunger will be on Oct. 14 at 2:30 p.m. in the Lincoln Christian Church sanctuary.

2012 marks the 20th year for the Musical Offering for World Hunger. Linda Storm and Tim Searby developed the idea for a "musical offering" in the early years of Harvest of Talents at Lincoln Christian Church for musicians to have a way to share their talents in helping to feed hungry people around the world.

Throughout the years the musical offering has included music from the masters to Broadway, and this year is no exception. The concert will include organ, piano, vocal solos and duets, choir, handbells and the H.O.T. vocal ensemble.

A freewill offering will be taken, and all proceeds will be given to Harvest of Talents to feed hungry and hurting people all over the world.

Participants this year are Linda Storm, Tim Searby, Gail King, Kay Dobson, Laurin Hill, Dinelle Frankland, Darrin Akin, Paula Landess, Deb Parker, LaVerne Tesh, Paula Knopp, Donnie Parker, Bev Kurka, Jennifer Ramsey, Barry King, Bob Kurka, Cheryl Baker, Rich Knopp, Mike Vernon, Lorna Searby, Randy Storm, Brenda Maddox, Julie King, Brandon Davis, Lincoln Christian Church Sanctuary Choir, John Stein, Zach Ramsey, Lincoln Christian Church Bell Choir and Jeremy Goeckner.

Immediately following the concert, the ministry team for Harvest of Talents for World Hunger will host a punch and homemade cookie reception in celebration of the 20th anniversary. Everyone attending the concert is invited to attend the reception, offering them an opportunity to express their appreciation to the musicians.

Harvest of Talents is celebrating 29 years of ministry, and the musicians involved in the musical offering are delighted to share their talents in support of this vital ministry.
---

Upcoming blood drives in Logan County
To help ensure an adequate blood supply for the region, the Central Illinois Community Blood Center is offering opportunities to donate blood in Logan County this month:
Monday, Sept. 17
In Mount Pulaski -- Farmers Bank, 130 S. Washington; 9 a.m.-noon
Thursday, Sept. 20
In Elkhart -- Christian Church, 113 S. Gillett; 3-6 p.m.
For your convenience, call toll-free 1-866-GIVE-BLD (1-866-448-3253), ext. 158, to sign up, or schedule an appointment online at www.cicbc.org. Walk-ins are also welcome and truly appreciated.
Central Illinois Community Blood Center, a not-for-profit organization, is the provider of lifesaving blood for 12 hospitals throughout central Illinois, including Memorial Medical Center and St. Johnís Hospital in Springfield. CICBC is a division of the Mississippi Valley Regional Blood Center, which collects over 180,000 units of blood annually and serves 80 hospitals in Illinois, Iowa, Missouri and Wisconsin.
---

'Lunch and Learn' Sept. 25 at Oasis Senior Center

The Area Agency on Aging for Lincolnland, in cooperation with Senior Citizens of Logan County, has scheduled a "Lunch and Learn" program for informal caregivers of older adults and for grandparents and other relatives raising children. It will be at noon Sept. 25 at the Oasis Senior Center, 501 Pulaski St. in Lincoln.

Barbara Greenwood, of VRI -- with the motto "Be safe. Live well." -- will present "Minimizing the Risk of Falls in the Home by Implementing Simple Changes."

Lunch will be provided, and preregistration is required. There is no charge to attend.

This presentation is part of a series of Lunch and Learn programs. The goal of the series is to provide practical information that will help caregivers continue to provide quality care to others while maintaining balance in their own lives.

Informal caregivers are those unpaid individuals such as family members, friends and neighbors who provide assistance to someone who is to some degree incapacitated and in need of help with tasks such as grocery shopping, bill paying, cooking or personal care. Grandparents or other relatives raising grandchildren are those who have accepted primary responsibility for raising one or more children through age 18.

To register or to learn about this program, contact the Area Agency on Aging for Lincolnland at 217-787-9234 or 800-252-2918.
---

Family Preparedness Day Saturday at Scully Park
September is National Preparedness Month. The Logan County Emergency Management Agency and Logan County Department of Public Health are committed to participate in the National Preparedness Month to increase preparedness throughout Logan County by partnering to coordinate Family Preparedness Day.
When: Saturday, Sept. 15, 9 a.m.-1 p.m.
Where: Scully Park, Lincoln -- McLean Street
Who: Logan County Department of Public Health, Logan County Emergency Management Agency, Lincoln Fire Department, Lincoln Rural Fire Protection District, Logan County Paramedic Association, Lincoln Police Department, American Red Cross, Illinois Emergency Management Agency and Illinois Law Enforcement Alarm System.
One of the key messages of National Preparedness Month is to be prepared in the event an emergency causes you to be self-reliant for three days without the following: utilities and electricity, water service, access to a supermarket or local services, or maybe even without response from police, fire or rescue.
Preparing can start with four important steps:
Be informed about emergencies that could happen in your community, and identify sources of information in your community that will be helpful before, during and after and emergency.

Make a plan for what to do in an emergency.

Build an emergency supply kit.

Get involved.
Emergencies can happen anytime and anywhere without notice. This is why we encourage our community to be better prepared and invite community members to join us in the effort.
See publicity.
---

Development partnership hosts night golf outing to support mission
The Lincoln & Logan County Development Partnership is planning a fall fundraiser to help raise funds to support their work in Logan County. The partnership decided on something new that Logan County has not seen before. On Sept. 21 they will host their first-ever night golf outing at North Greens Golf Course in Atlanta. A rain date is set for Sept. 28.
This is a night golf scramble with shotgun start at 7 p.m. The course will be lit with glow sticks by tee boxes, fairway markers, flags and holes. Hazards, such as water, will also be marked.
Prizes will be awarded to first- and second-place teams for longest drive, longest putt and closest to the pin.
The registration fee is $50 per person or $200 for a four-person team. The fee includes the nine-hole green fee, golf cart, one glow ball, one glow stick, one glow necklace per participant, two wristbands per cart and happy hour snacks.
Extra glow items will be available for purchase at check-in, as well as mulligans and alcoholic beverages.
The partnership hopes to secure sponsorships to help support this fall fundraiser.
If you are interested in golfing or sponsoring at the event, contact the Lincoln & Logan County Development Partnership at 217-732-8739 or visit the website at www.lincolnlogan.com for more details and a registration form.
The Lincoln & Logan County Development Partnership is a nonprofit charitable organization with the goals to develop new business, retain current business and enhance the quality of life in Lincoln and Logan County.
---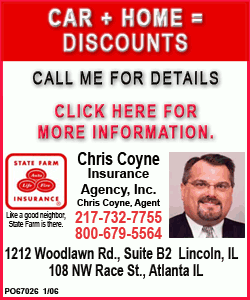 ---

Together for Lincoln seeking volunteers

As Together for Lincoln nears its Sept. 29 community service project day, it has plenty of projects to complete. In order to complete the projects, organizers are in need of several hundred more volunteers. These volunteers are needed for a variety of tasks, which range from visiting people in the nursing home to constructing wheelchair ramps. Of the 107 projects already submitted, about a third involve installation of windows for weatherization projects.

"This is the first year we have taken on weatherization projects, and we have been amazed by the response," said Norm Newhouse, Together for Lincoln president. "We need volunteers for all projects, but especially for carpentry projects such as window installation."

Newhouse went on to say that TFL would help to equip anyone with basic carpentry skills in order to prepare them to install windows.

"We are in dire need of expert carpenters, but we also really need those with basic to intermediate carpentry skills as well," he said.

While Together for Lincoln is no longer accepting applications for home improvement, volunteers are still being accepted. One of the volunteer coordinators, Caroline Higgins, requests that volunteers sign up as soon as possible, as the pairing of projects and workers will begin within the next week.

"Volunteer numbers are behind normal so far," says Higgins. "It will take several hundred more volunteers to complete all of the projects."

Those wishing to volunteer for any project area may do so by signing up at http://togetherforlincoln.com/
GetInvolved.aspx, or they may pick up a paper application from the State Bank of Lincoln Wal-Mart location, Oasis Senior Center or through partner churches.

Together for Lincoln is a 501(c)(3) not-for-profit organization. In its four previous annual community service days, over 3,200 volunteers representing at least 15 area churches have worked together to complete more than 400 service projects.
---

Special meeting at the Masonic Lodge Sept. 18

On Sept. 18 there will be a special meeting at Lincoln Masonic Lodge 210 beginning at 6:30 p.m.

At that time there will be a plaque presentation in honor of Darrel Klink. All area Masons are invited to attend this special service.

The regular meeting of the lodge will commence immediately after the presentation.
---

Community Action utility assistance program begins

The Community Action Partnership of Central Illinois announced that Tuesday was the beginning of the Low Income Home Energy Assistance Program, LIHEAP. Community Action administers the program, providing a one-time benefit toward utilities to eligible households in DeWitt, Logan, Mason, Menard and Piatt counties.

To qualify during the priority period of Sept. 4-28, individuals must have incomes of no more than 150 percent of the federal poverty level. Seniors or disabled residents can apply.

Beginning Oct. 1-31, accepted applications will be expanded to include households that have families with children under 5 and disconnected households.

All other households that meet the 150 percent federal poverty guidelines will be eligible for the program beginning Nov. 1 and will continue to May 31, 2013, or until all funds are depleted.

The amount of utility payment is determined by the household income, size, fuel type and geographic location in the state. Source of gas does not have to be natural gas or electricity in order to receive assistance. Payments are made directly to vendors on behalf of the households.

Interested participants can contact their local Community Action Agency Partnership of Central Illinois office to schedule an appointment:
Logan County: 217-732-2159, ext. 226

Menard County: 217-632-3878

Mason County: 309-543-6988

DeWitt County: 217-935-2455

Piatt County: 217-762-2421
Community Action Partnership of Central Illinois Agency serves low-income, disabled and elderly households in six central Illinois counties. For more information, visit www.capcil.org.
---

Local student could win $5,000 in college money

Commanders of Veterans of Foreign Wars posts across Illinois have announced the kickoff of this year's VFW and Ladies Auxiliary "Patriot's Pen" essay competition. Middle school students in grades six to eight in this area have the opportunity to compete in the annual competition and win thousands of dollars.

Students are invited to write a 300- to 400-word essay on a patriotic theme. The theme for 2012-2013, which is the 18th year of the contest, is: "What I Would Tell America's Founding Fathers."

Students begin by competing at the local post level. Post winners advance to district, and district winners participate in the state competition. The state winners compete for $46,000 in awards, and first place wins $5,000.

Each year, around 126,000 students participate nationwide.

Deadline for student entries is Nov. 1. Interested students and teachers should contact their local VFW post for more information.

For details, visit http://www.vfw.org/Community/Patriot-s-Pen/.
---

Local high school student could win trip to Washington, DC, and $30,000 scholarship

Commanders of Veterans of Foreign Wars posts across Illinois have announced the kickoff of the 66th year of the VFW and Ladies Auxiliary Voice of Democracy Scholarship competition. Local high school students have the opportunity to compete for thousands of dollars in scholarships and a trip to Washington, D.C.

The Voice of Democracy Scholarship contest is an annual nationwide audio essay competition designed to give ninth- to 12th-grade high school students, ages 15-19, an opportunity to voice their opinion on their responsibility to our country. Home-schooled students are also invited to participate.

Students must write and record a three- to five-minute essay on this theme for 2012-2013: "Is Our Constitution Still Relevant?" The recording is to be on an audio cassette tape or audio CD. Students competing enter their recording, typed essay and entry form at their local VFW post. The deadline is Nov. 1.

Post winners advance to district judging, and then the first-place district winners advance to the state competition in Springfield. All state winners receive a four-day trip to Washington, D.C.

A total of $152,000 is awarded to national finalists. First place is a $30,000 scholarship paid directly to the recipientís American university, college or vocational-technical school.

Annually the VFW provides more than $2.3 million in scholarships. Around 50,000 students participate in the competition each year.

The Voice of Democracy contest was started by the National Association of Broadcasters in the late 1940s, and the VFW became involved in the late 1950s. The VFW took over primary sponsorship in 1961, when the broadcasters could no longer sponsor the program nationally. Then in 1964, the VFW Ladies Auxiliary joined in sponsorship of the program.

Because of the active program promotion and participation, the national scholarship funds have steadily increased from four national winners in 1962, with total scholarships of $3,750, to the current level of 63 national scholarships totaling $152,000.

For more information about the Voice of Democracy competition, contact the Veterans of Foreign Wars post in your area. If you are unsure of the post in your area, contact Illinois VFW headquarters in Springfield at 217-529-6688.

For more information, visit http://www.vfw.org/
Community/Voice-of-Democracy/.
---

Lincoln Pregnancy Resource Center's Rock 4 Life event

A five-hour charity "rock-a-thon" is planned for Sept. 15 from 10 a.m. to 3 p.m. at the Lincoln Christian University Restoration Hall, The Dowling Auditorium. The Rock 4 Life event will benefit the Lincoln Pregnancy Resource Center.

Entertainment and refreshments will be provided throughout the day, and there will be a prize for the top rocker.

Planners are looking for captains to organize teams, with each team made up of five rockers -- family, friends, co-workers, neighbors -- one for each hour in the Rock 4 Life. Every rocker in the team collects donations for the hour they rock.

Are you ready to rock? Call Linda Nelson or Amanda Stidham at 217-735-4838 or email them at lincoln@hopeforafuture.com.
---

Register now for 2nd annual Moving Forward 5K

Registration is open for the second annual Moving Forward 5K Run/Walk, scheduled for Oct. 13 at Edward R. Madigan State Park. At 9 a.m., rain or shine, walkers and runners of all fitness levels will take off on a route that meanders through grassland and woodland. All are encouraged to join friends and family and enjoy the fall scenery while being active.

The event is brought to the community by the Abraham Lincoln Healthcare Foundation and Abraham Lincoln Memorial Hospital's Sportscare.

Runners and walkers can register online at: https://almh.proeventreg.com/
movingforward#register.

For those who register before Sept. 15, there is a discounted registration of $20, which includes a men's or women's dry-fit race shirt. After Sept. 15, the registration fee will increase to $25. Shirts are not guaranteed for late registrants.

"Our mission is to improve the health of the people and communities we serve, and what better way than through exercise," said Todd Mourning, physical therapist and manager of rehab services at ALMH. "I hope that this event encourages people of all fitness levels to get moving forward towards good health."

The event's lead sponsor is Gehlbach Law, PC. Other sponsors are Blue Dog Inn, Clinical Radiologists, Eaton Corp., Nikles Chevrolet, Nobbe Eye Care, Linda Barrick at Brady Realtors and Tracy Olson Insurance Agency.

The Abraham Lincoln Healthcare Foundation will use proceeds from the Moving Forward 5K Run/Walk to support community wellness programs.

Sportscare at ALMH is a full-service athletic training program for young athletes and active adults. Services include performance enhancement, injury prevention, concussion management, training zone programs, high-tech knee and shoulder treatment, and more.

For more information about the Moving Forward 5K event, call the rehabilitation department at ALMH at 217-605-5500.
---