[September 21, 2012]

Send a link to a friend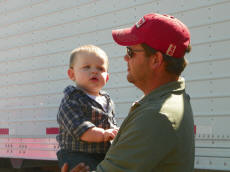 On Wednesday, Farm Credit Services in Lincoln visited the farm of Matt Haseley, just a short distance north of Lincoln. The Haseley farm is one of three Logan County farms where FCS delivered a noontime meal in recognition of Farm Safety Week.
The purpose of the meal is to provide a break for farmers during harvest time. It allows them the opportunity to get out of the combine or off the tractor, sit down, relax a few minutes, and be reminded that a tired farmer is a dangerous farmer, and taking breaks and getting rest, even in the height of harvest, is important.
This year, harvest is starting early in Illinois. According to reports from the USDA, harvest is well ahead of schedule in many parts of the state. With grain coming in early, one would think there is less sense of urgency in the harvest, but that isn't always so.
While the harvest season may be a little more laid-back than in other years, one factor that is driving farmers to push to harvest their crops is the fact that prices are falling. Unfortunately it is a fact of life that when harvest begins, prices fall. However, the earliest farmers to have their crops out of the field will benefit later on in the fall when crops reach the point of being 80 to 100 percent harvested.
Matt Haseley, who farms approximately 2,800 acres with his dad and uncle, is a third-generation Logan County farmer. He proudly predicts that his 17-month-old son, Brayden, will be generation four. Brayden was in the field Wednesday along with mom Jackie to enjoy a fried chicken or meatloaf dinner, courtesy of FCS.
Haseley said this is certainly not the best year he's ever seen, but compared with what he had feared, his yields are coming in better than expected. From talking with others in the group, including members of the FCS staff, that seemed to be the consensus among several area farmers.
The facts that are coming to light this year are that harvest yields are all over the place. Some are very poor, while others are better than were expected. The bottom line, though, is that the local farmer is not going to see a lot of profit this year.
Pictures by Nila Smith