[September 21, 2012]

Send a link to a friend
On Wednesday, Hartsburg-Emden High School was the setting for the Illinois Future Farmers of America, Section 14 Leadership Training School. Section 14 is one of 25 FFA sections in Illinois and is represented by high schools in New Berlin, Athens, Williamsville, A-C Central, Mount Pulaski, Greenview, Lincoln and Pleasant Plains as well as Hartsburg-Emden.
Pictures by Curt Fox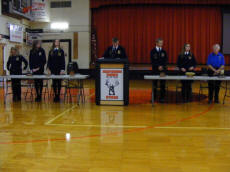 The Section 14 officer team, from left: Jarob Heffner, sentinel, from Athens; Parrish Smith, treasurer, from A-C Central; Hayle Johnson, reporter, Athens FFA; Cole Baker, president, at the podium, Hartem; Cody Conrady, vice president, Hartem; Caseelynn Johnston, secretary, A-C Central; and Betsy Pech, adviser, Hartem.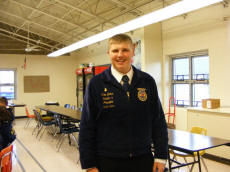 Cole Baker, president of Section 14 and Hartem FFA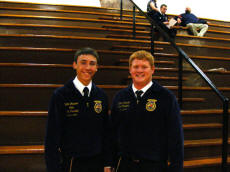 Dalton Heavner (left), Illinois FFA vice president, from Pittsfield, and Darren Riskedal, president, from Leeland