Tickets on sale for 'The Heavens are Hung in Black' at Abraham Lincoln Presidential Museum
Lincoln drama set in 1862 will be staged Nov. 8-11 and 15-18

Send a link to a friend
[September 22, 2012] SPRINGFIELD -- Tickets are now on sale for an eight-performance run of the Lincoln drama "The Heavens Are Hung in Black," a two-act play by James Still, to be presented Nov. 8-11 and 15-18 in the Union Theatre of the Abraham Lincoln Presidential Museum.
The large-cast drama takes place 150 years ago, during several months in 1862, as the Civil War rages on and President Lincoln prepares to write what will become the Emancipation Proclamation. Richard "Fritz" Klein, renowned for his portrayal of Lincoln around the country, will play the president in the large-cast production.

Still's play was commissioned by and premiered at Ford's Theatre in Washington, D.C., in 2009. The Abraham Lincoln Presidential Museum production is being presented by JPMorgan Chase.

"I admire this play for many reasons, one of which is that Lincoln is shown as a real, flesh-and-blood human being," said director Phil Funkenbusch. "The playwright also adds some theatrical touches: Lincoln is visited by the ghosts of Dred Scott, a Missouri slave who unsuccessfully sued the Supreme Court for his freedom; abolitionist John Brown; and even the fictional character Uncle Tom from Harriet Beecher Stowe's 'Uncle Tom's Cabin.'"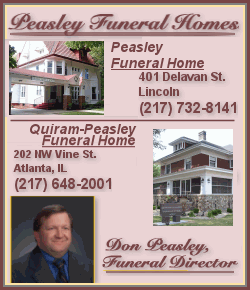 "The Heavens Are Hung in Black" is sponsored by the Abraham Lincoln Presidential Library Foundation and History Comes Alive, a living history program.
Performance times are Thursdays through Saturdays at 7:30 p.m. and Sundays at 3 p.m. at the presidential museum, 212 N. Sixth St. in downtown Springfield.
Tickets are $18 for adults, $15 for foundation members and $10 for students. Call 217- 558-8934 for tickets or purchase them online at www.presidentlincoln.org.
[Text from Abraham Lincoln Presidential Library and Museum file received from the Illinois Historic Preservation Agency]