[September 22, 2012]

Send a link to a friend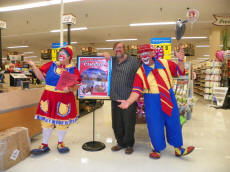 Carlee and Charlie are in reality Sherri and David Shepherd. They have been clowning around together since 1995. Married and with four grown children, Sherri was the first to get involved with clowning, but it eventually proved to be contagious and David got involved as well.
The couple work together performing their act in a variety of venues. While they specialize in children's birthday parties, they also entertain at schools, churches, parades and many community events. They have made regular visits to residents of nursing homes and assisted living facilities as part of Circus Sarasota's "humor therapy" clown group, Laughter Unlimited.
This is their second year of working with the Kelly Miller Circus as their promoters. The Shepherds are not a part of the actual circus.
Pictures by Geoff Ladd, Karen Hargis and Nila Smith