Numbers. Or, rather, the lack thereof.

It's rarely talked about by players and coaches, but, quite frankly, it's the biggest factor in the outcome of every single game.

In all of their five games this season, the Railers have been outnumbered by their opponents.

Which makes Friday night's thrilling 28-21 homecoming victory over Springfield High all the more special.

With 1,450 students, Springfield High is the most populous school in the Central State Eight conference. Lincoln is the conference's second-smallest school, with an enrollment of 841 students. The conference's smallest school, Rochester, happens to be a football powerhouse that has won back-to-back state championships in Class 4A.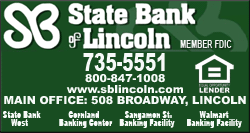 No other high school sport is more affected by enrollments than football. That being the case, if the Lincoln Railer football program is to ever break a nearly 30-year-long streak of losing seasons, the arithmetic indicates that it will require a large percentage of the school's best male athletes to get on the gridiron, in order to minimize the inherent disadvantage of having such a low enrollment relative to their opponents.
But, as most followers of LCHS athletics know, that doesn't happen. In fact, the opposite is almost true; only a modest percentage of the best athletes in the school play football.
I know what the obvious question is here: Why?
But, the answer to that question is best served in another column, on another day.
To debate that topic now would be a disservice to the heroic efforts of the athletes who did participate on Friday night.
What a victory.
What a group of warriors these Railers are.
How else do you describe a group of kids who believe so strongly in themselves, in each other, in spite of their disadvantages?
"We have 30 kids on our varsity team. We know we aren't the biggest team. But we also know we have the biggest hearts," said junior quarterback Austin Krusz, who scored the game-winning touchdown in the final seconds on Friday night. "You have to with 30 kids. We knew coming into this game, we can beat them, we can pull off an upset. It feels great. We knew we could do it."
Perhaps no Railer has a bigger heart than senior Dane Eimer.
Listed at 5-foot-10 and 160 pounds, Eimer doesn't look the part of a heat-seeking missile playing safety, but that's what he is. Eimer seemingly defies laws of physics every week when he wipes out bigger and stronger players from the opposition with ferocious hits.
But that's not all he does. Like about eight other teammates, Eimer plays both ways. He also plays special teams. He literally never comes off the field.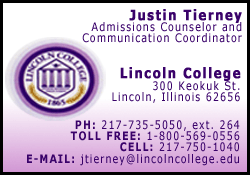 So, at the end of the game, you would imagine that Eimer would be spent, completely exhausted from running up and down the field in such a physically grueling sport.
Yet, there was Eimer playing receiver in the final seconds of Friday night's game. With the game hanging in the balance, Eimer sprawled out for a diving catch to put the Railers inside the 5-yard line. The play set up Krusz's winning touchdown.
That play and those like them are the beauty of Lincoln Railer football, even when the scoreboard is ugly. It's about giving everything you have for the chance to play the game you love, for the chance to win. Not just win, but win defiantly; to win despite so many of the cards in the deck being stacked against you on a weekly basis.
There's tremendous pride in that. There's dignity in that.
This team's commitment to that ideal is a credit to coach Andy McDonald and his staff.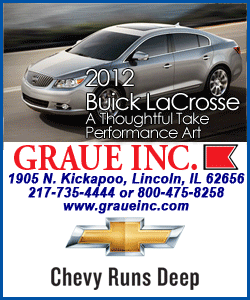 It's quite easy to see how the coaches have crafted their message to the players:
Give it everything you have and you'll win some games. And when you don't win, you'll still be able to hold your heads high, precisely because you gave it everything you had.
"Because of the numbers, we have guys that are on the field more than usual. We're typically not as fast or as athletic as the other teams we play," said McDonald. "Our guys have to learn to get more out of what each one of them has in the tank, to play as close to that 100 percent capability level that they can."
The players have completely bought into the mindset.
Friday night's homecoming win was an appropriate reward for their dedication.
"It's an awesome feeling, knowing that we have to come out here and battle, with our guys, knowing that they're going to have at least 20 or 30 more people than us," said Eimer when asked what it meant to beat the conference's largest school. "But really, we don't think about it. Our mindset is just to go out there, play your best, and we're not going to let up, every play."
"We want to earn our respect," added fellow senior Conner Schmidt. "We work hard in practice and no one gets tired on the field. There's no time for that."
Respect is sometimes hard to come by for a program that puts players on the field who haven't seen a winning season in their lifetimes.
McDonald says his team has to "overcome the stigma" that comes with being a Lincoln Railer football player.
Perhaps that's unfair, but that's reality. McDonald doesn't pretend a stigma doesn't exist.
"These guys have grown up their entire lives and have not seen a Lincoln football team finish the season with a winning record," the coach said. "I credit these guys for being out here, for playing together and working hard for each other, for the school and the community, and putting in all of the hard work that they do.
"An awful lot of preparing for football season is done in that weight room, sweating and grunting and doing a lot of tough work together. That makes it so much more rewarding and special on a night like this, knowing that they have bled and sweated together."
As someone who has spent my fall Friday nights on the sidelines for much of the last four years, I wish more people from the community understood the plight of the Railer football program as they annually struggle to match up to opponents with superior numbers.
I asked the players if they thought people understood the numbers issues.
Their answers -- no self-pity, no excuses, no whining, no complaints -- said so much about the fiber of young men who put on a Lincoln football uniform.
"It's hard to say. We understand it, but we try not to even think about it," said Krusz. "We know that we have go out there -- whether it's defense, offense or special teams -- we have to go hard. We don't think about numbers out on the field. We just know that we have to do our job."
"Some people might get it, but it's just about heart. This year especially, it's a bunch of heart," said Eimer. "Everybody this year has tons of heart. And they show it out here every Friday night."
[By JUSTIN TIERNEY]
Justin Tierney's Railer football reports