The Lunch and Learn series is presented by the Area Agency on Aging for Lincolnland, a Springfield nonprofit organization that covers 12 counties in central Illinois. The agency's mandate is to provide information of special interest to the elderly population about transportation, nutrition, legal services and home health care as well as many other topics.

As Debbie Deopere, the agency's community services specialist, stressed: "We encourage the continuing independence of the aging community with educational services, thus empowering people to make informed decisions about their lives."

The lunch time seminar was aimed at informal caregivers -- those unpaid family members, friends, or neighbors who volunteer to assist a person over age 60 who may need occasional help. People who are also included as informal caregivers are family members over age 60 who care for a relative's children from infancy to age 18.

Tuesday's focus for informal caregivers was entitled "Minimizing the Risk of Falls in the Home by Implementing Simple Changes." Barbara Greenwood of VRI made the presentation. VRI is a company that markets products designed to enhance the lives of older community members, primarily products that increase safety in the home.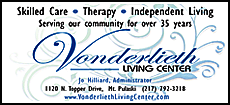 "Thirty percent of people over 65 have a fall, and falls are the greatest contributor to death over age 65," said Greenwood. She also stated that 40 percent of nursing home admissions are due to falls.
Greenwood ticked off the six most common culprits that are responsible for falls in the home.
The first two are balance problems followed by mobility issues. As we age, our balance can become compromised, leading to increased risk of falls. Mobility is increased for many with the use of canes and walkers. Greenwood said that these support items need to be used at all times, even when walking a short distance in the home.
Next, the use of multiple medications may cause drowsiness or dizziness if they are not taken correctly, meaning the correct dose and at the proper time each day. Low blood pressure that causes lightheadedness or dizziness is the next concern that may lead to falls.
As we age, many of the senses we take for granted, such as good eyesight and hearing, may be less acute. "We all need regular eye exams," Greenwood said. It is especially important that grandkids' toys, throw rugs and pets moving about in the home can be seen and that small objects that can cause a trip are picked up.
The last area of emphasis is home hazards. Throw rugs and electrical cords can cause trips and falls. It is important that rugs have safety backing. "Proper lighting in every room is extremely important," she said.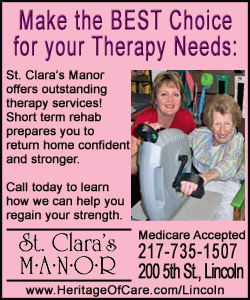 Greenwood said that 50 percent of people who fall cannot get up. That is where her company comes into play. VRI and many other similar companies supply medical alert transmitters, fall detectors and medication machines that dispense proper medication amounts at the correct intervals. All of these aids are linked electronically to a central hub with 24-hour monitoring.
Falls are serious, especially for those who cannot get up. Even in a time period as short at 30 to 60 minutes, muscle damage can occur, as well as dehydration. That is why immediate detection and assistance are vital for recovery.
Approximately 10 informal caregivers attended the luncheon.
Alta Gehrke of Lincoln has been caring for her daughter Diane all of Diana's life. "It is a difficult experience for my husband and me," she said.
Another audience member, Mary Fuller, has had experience caring for several of her relatives for many years. "This has been an informative lecture," she said.
The Area Agency on Aging provides many Lunch and Learn sessions at the Oasis throughout the year. Contact the Oasis at 217-732-6132 or the Area Agency on Aging for a list of upcoming events.
"We schedule the Lunch and Learn over the noon hour because many of the people who use our services and information are still working, and this is the most convenient time for them to attend," said Deopere.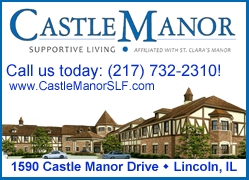 She stressed that there are many pieces of literature at the Oasis concerning the services that the Area Agency on Aging for Lincolnland provides. The agency is located at 3100 Montvale Drive in Springfield. They can be reached for further information by telephone at 217-787-9234 or 800-252-2918, or visit www.aginglinc.org.
[By CURT FOX]