Park district notes
From Roy Logan, program coordinator

Send a link to a friend
[April 06, 2013] Learn the joys of Container Herb Gardening with a class offered by the Lincoln Park District. Join the group on April 20 at 8 a.m. in the craft room at the administration building to explore this productive hobby. Plants, container and potting soil will be provided for you to put together and take home with you. The cost will be $30 per person, and the class is not expected to last more than two hours. Carol Mills will be the instructor and is willing to answer many of your planting questions.
Mills has long been interested in all things growing, especially herbs. She is a charter member of the Logan County Herb Guild and current president. She is also a member of the Champaign County Herb Society and a Master Gardener as well. She admits that it is the smell of fresh herbs that first captivated her and still is the best reason for planting herbs in a convenient "brush by" spot. She will show you how to plant a medley of favorites so you, too, can enjoy them as she does.

Baseball and softball registrations are still being accepted by the park district. The district encourages parents to register their players soon. Prices this year have not changed, and there are discounts for families with more than one child in the program. Sponsorship opportunities are still available to local businesses or agencies that would like to underwrite the expenses incurred. The sponsors will have their name and logo displayed on the players' shirts.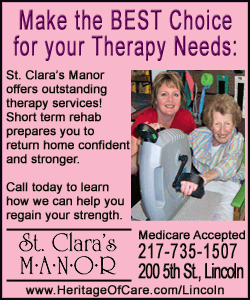 The park district's Summer Brochure listing all of the program offerings for the summer will be coming out soon. The brochure is projected to be distributed near the end of the month. The park district has a huge listing of new and exciting programs for nearly every age group. The emphasis will be on education and exercise -- and making sure everyone is having a good time.
[Text from file received from Roy Logan, Lincoln Park District]