[April 09, 2013]

Send a link to a friend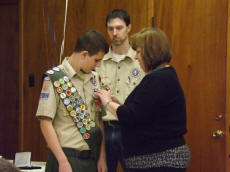 Saturday morning Melissa Henderson was a proud mother as she pinned the Eagle Scout badge on her son Joshua, making him Logan County's newest and perhaps even youngest Eagle.
Joshua and his family hosted a celebration at the Lincoln Masonic Center that included Joshua's induction ceremony and a gigantic buffet brunch.
Here are just a few shots to help Joshua commemorate this special day and this special achievement. Be sure to read the story that goes along with these albums.
Pictures by Nila Smith