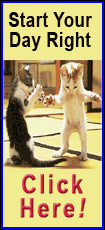 Joshua had decided to go out for the highest level in Scouting, the level of Eagle Scout. Even though he was younger than many young men who try for the ranking, he was well-prepared with a plan to do something that according to the Scouting guidelines would serve to help people in a community.

Joshua chose to collect toys for the tornado-ravaged community of Harrisburg in southern Illinois. He designed a plan, selected a team of fellow Scouts to help him, created fliers promoting his plan and contacted local media to also help get the word out.

A few weeks later, Joshua sent a message to LDN that he had achieved what he had set out to do in collecting toys for children in Harrisburg. With his email message, he sent photos of himself and his dad delivering over 800 toys and other youth-oriented products to a church in Harrisburg, where they were then distributed to families so their children could enjoy the Christmas season.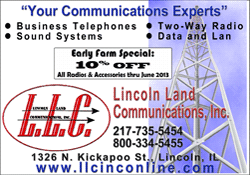 This week, after what must have seemed like a very long four months, Joshua was awarded his Eagle designation at a celebration in his honor on Saturday morning.
The fellowship hall at the Lincoln Masonic Center was filled to capacity as dozens of folks turned out to witness the pinning of Joshua's new badge. After the formal ceremony, everyone was invited to enjoy a buffet brunch.
The pinning ceremony included many aspects. It began with a presentation of colors by Scouts from Troop 102, Joshua's troop.
Newly appointed troop leader David Stevensen addressed the audience; then former scoutmaster Robert Cox addressed the group.
Joshua's uncle, the Rev. John Good, also an Eagle Scout, was called on to speak.
Then there was the presentation of the "Eagle Trail." Scouts came forward one at a time and offered an oratory on the various stages of Scouting leading up to the Eagle.
Definitions of the trail were offered, beginning with Tenderfoot, moving on to Second Class and First Class Scout, Star Scout, Life Scout and ending with Eagle Scout. Among the boys presenting the stages of Scouting were members of Joshua's team on the project, including Kevin Barker, Griffen Jodlowski, Carter McCraith and Hayden Sanborn.
Following the presentation, Cox again took the podium and talked briefly about his personal experiences with Joshua as he has grown as a Scout.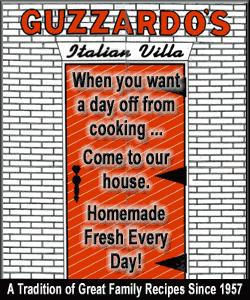 Lincoln Mayor Keith Snyder was called on to say a few words, as was a representative from the Bloomington Scout council.
Congratulatory letters were read aloud from such dignitaries as U.S. Rep. Aaron Schock; former U.S. President George Bush, along with his wife, Barbara; and Illinois Lt. Gov. Sheila Simon.
In addition to all this, a letter that may have been the most important to Joshua, according to his dad, was the one that came from Charles F. Bolden Jr., administrator of the National Aeronautics and Space Administration.
As the ceremony began to come to an end, Joshua received his badge, pinned to his shirt by his mother. In return, Joshua presented her with her mother's pin and his dad with his father's pin. Joshua's grandmother Ann Henderson was also called up and presented with her first grandmother pin, to go along with her five mother-of-an-Eagle pins.
In addition, Joshua's grandfather the Rev. David Good was called on to speak. He talked to his grandson about carrying on the lifestyle and responsibility that comes with being an Eagle.
For the Scouting organization, being an Eagle Scout is a lifetime commitment. During portions of the ceremony, Eagles in the group were called on to stand, and a number of them were present, representing ages from young adult to mature men.
The designation of Eagle Scout is one of the most difficult for any Scout to achieve. It was stated that there are those who attempt to obtain the rank but give up, and there are those who never try. Of all the Scouts in the history of Scouting, only 4 percent of the membership has ever achieved what Joshua has achieved.
[By NILA SMITH]
Past related articles