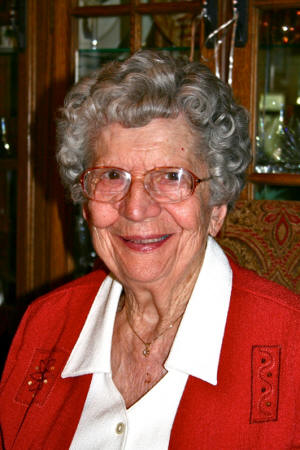 Eugenia Juhl Merry
[April 14, 2013] SAN ANTONIO, Texas -- Eugenia Ruth (nee Velde) Juhl Merry, 92, died Friday, April 12, 2013.
(Below is a copy of the obituary from the funeral home.)
___
San Antonio, TX- Eugenia Ruth (nee Velde) Juhl Merry was called home by her Savior Jesus Christ on April 12, 2013 at the age of 92. Eugenia was born on May 23, 1920 in New Holland, IL to the late Teis and Helen (nee Garretson) Velde. She graduated from Illinois State Normal University (ISNU) in 1941. She married Leonard Juhl in June of 1942 and they were married for almost 40 years before his death in 1981. In 1982, she married Raymond Merry. They were married for 19 years before his death in 2001.
Eugenia was a well-loved teacher and retired from Lincoln (IL) Junior High School in 1976. Hobbies and interests included playing bridge, traveling, sports, and spending time with her family. She was a long-time member of Immanuel Lutheran Church in Lincoln, IL before moving to San Antonio, TX in 2008 where she became a member of Concordia Lutheran Church.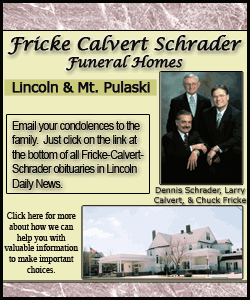 Eugenia was preceded in death by her husbands, Leonard Juhl and Raymond Merry, and a granddaughter, Kara Leigh Broughton. She is survived by a daughter Joyce Juhl, a son Gary (Debbie) Juhl, a granddaughter Amy (Jeff) Sanders, all of San Antonio, TX; a grandson Todd (Jennifer) Juhl of Scottsdale, AZ; 5 great-granddaughters: Maya, Rachel, and Leah Sanders, and Avery and Emerson Juhl; and cousin Bob (Nancy) Garretson of Decatur, IL. In addition, she has a loving step-family: Raymond Wayne Merry, Calvin and Marcia (nee Merry) Forman and their children Shelly Forman Goodson, Chris Forman and Scott Forman, as well as other relatives and many friends who loved her dearly.
A memorial service to celebrate Eugenia's life will be held at Immanuel Lutheran Church in Lincoln, IL at a future date yet to be determined. Burial will be in Richmond Grove Cemetery outside of New Holland, IL. Memorials may be sent to: Western Illinois University Foundation, One University Circle, Macomb, IL, 61455 for benefit of the Kara Leigh Broughton Memorial Scholarship Fund, or to Immanuel Lutheran Church, 1409 Pulaski Street, Lincoln, IL 62656. Final arrangements in Lincoln, IL are being coordinated by Fricke-Calvert-Schrader Funeral Home.