[April 15, 2013]

Send a link to a friend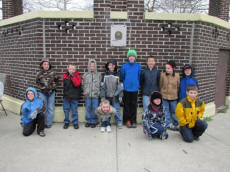 Despite the colder temperature, over a dozen Cub Scouts and a few parents were out and about on Saturday morning. Children from the dens of Scout Pack 111 could be seen downtown, picking up litter and cleaning up the sidewalks.

Elaine Menzel, the event coordinator for Pack 111, calls this activity the Scout Sweep. The Scouts, some of the parents and Menzel began their day at Latham Park. The younger Scouts stayed at Latham Park to pick up litter, while the older children walked to the courthouse square, the fire department and Washington-Monroe. The oldest Scouts walked to Scully Park.

Menzel said that originally, she expected to see more kids come out, but the colder weather proved to be an issue. Nevertheless, Menzel said it was still a good turnout for the event.

"The families are invited to come out, too," she said.

Menzel said that this is her second year working on the Scout Sweep. The Scout Sweep began in 2008 as an official Boy Scout project for that year. It went so well that the next year, even though it wasn't a requirement, the troops decided to continue with the annual project. Menzel said that in addition to this every spring and fall, the Cub Scouts volunteer to clean up lawns in Lincoln.

"We all want to work hard to keep Lincoln clean," Menzel said.

Menzel expressed her gratitude to Eaton-Cutler-Hammer for donating gloves for the children to wear; to Kroger's and Puritan Springs for providing bottled water; and to Jason Maxheimer, a local parent, for providing large garbage bags.
Pictures and text by Derek Hurley