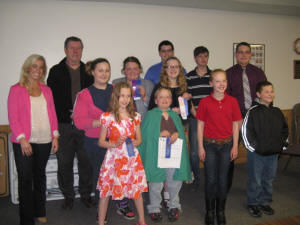 Front row, from left: Caroline Ahrends, Daniel Crider, Molly Schempp, Cavit Schempp. Middle row: Contest judge Christina Xamis, Livia Harmon, Miriam Carter, Hannah Crider, Joe Ahrends and Cameron Jodlowski. Back row: Contest judge Mike Fak and Kenyon Jodlowski.
4-H Oral Communications Contest results announced

Send a link to a friend
[April 16, 2013] Logan County 4-H recently had its annual Oral Communications Contest. State fair delegates selected were Kenyon Jodlowski of Atlanta in formal speech, Molly Schempp of Atlanta in illustrated speech, Joe Ahrends of Lincoln in original works and Miriam Carter of Lincoln in oral interpretation.