Severe weather threat and heavy rain continue through tonight; low temps tonight

Send a link to a friend
[April 18, 2013] The Lincoln office of the National Weather Service posted the weather graphic below for Thursday: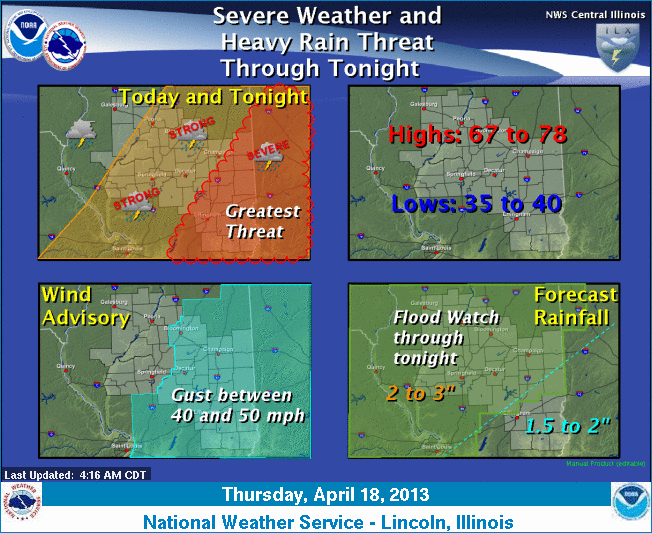 A cold front will begin to sweep through the area Thursday morning, continuing the strong to severe thunderstorms across the area through Thursday afternoon and evening. The greatest risk of severe weather will be in the east and southeastern parts of the state, with damaging winds and large hail possible. An isolated tornado is also possible. In addition, heavy rainfall will again be likely over the area, continuing the flood watch through Thursday night. In parts of northwestern Illinois, 3 to 5 inches has already fallen. However, an additional 2 to 3 inches is possible over the same areas of central and eastern Illinois through tonight, with 1.5 to 2 inches possible in southeast Illinois. Gusty south winds, with wind gusts of 40 to 50 mph, will also occur in eastern and southeastern Illinois from Thursday morning through Thursday afternoon, ahead of the storms.
For updates, check http://www.crh.noaa.gov/wxstory.php?site=ilx and http://www.crh.noaa.gov/ilx/.