Each year for the past 21 years, Sumrall has applied for the per capita grant and has received it.

Secretary of State Jesse White is also the state librarian. As such he is head of the Illinois State Library in Springfield and all of the Illinois public library districts. The per capita grant is based on the population of the public library district, which in Lincoln's case is exactly the same as the city's boundary.

"We want to be Lincoln's library," Sumrall said.

The grant of $10,905.04 will be used for salaries, especially to allow library employees to work more hours during the busy summer schedule at the library.

The premier summer event is the children's reading program, scheduled on Thursday mornings at 10, beginning in June.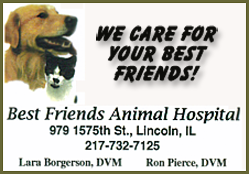 The children's librarian, Louella Moreland, is excited about this year's events. Moreland, also known as Ms. Lou on her popular library blog, said: "We start accepting applications for the summer reading program just after Memorial Day. The programs start the second week of June."
She has already selected the professional entertainers who captivate the children attending each Thursday. This year's theme is "Have Book Will Travel."
"We have a magician, jugglers, an animal program in conjunction with the Peoria Zoo and also a returning show with popular marionettes," Moreland said.
The final program is unique. "We are going to have a scavenger hunt in downtown Lincoln for the children and their families," said Moreland. The participants will solve clues while taking a walking tour of downtown Lincoln. This is an imaginative way for families to learn about their hometown.
The Lincoln Public Library District converted to a new online computer database this spring. The library joins 426 other member libraries in the Illinois Heartland Library System as a member of the new Polaris online database. This Internet system encompasses all the public libraries from Lincoln to the southern tip of the state. It is now available on the library's website and is called Share. It went "live" two weeks ago.
Sumrall said it is now much easier to search by categories, allowing a more advanced search. The previous system did not allow for that advanced search. Many more items are available, some 10 million, and the search is much faster.
For more information on all Lincoln Public Library programs, contact the library at 217-732-8878. The phone number for the youth department is 217-732-5732. Library information can also be accessed on the Web at www.lincolnpubliclibrary.org.
[By CURT FOX]