McDonald hosts the Emmy Award-winning show "Illinois Stories," which is produced for PBS. Weekly, he visits places of interest, and his show has gained him the reputation as a "chronicler of life" in central and west-central Illinois.

So, what was McDonald doing here? He and his camera crew were out to the Logan County Airport, where Heritage in Flight Museum is located, to get a little history lesson on aviation.

During the hour or so that McDonald and his film crew were at the museum, he interviewed museum curator Jack Burke and spoke with longtime museum volunteer Rick Naugle.

"Illinois Stories" is broadcast on SWEC in Jacksonville and Springfield, WQEC in Quincy, and WMEC in Macomb. The program can be viewed on over-the-air Channel 8 in Springfield and on digital WSEC 14.1 in the surrounding area.

The 30-minute segment on the Heritage in Flight Museum first aired on Thursday, but if you missed it, there are still two more times scheduled: Sunday at 4:30 p.m. and Tuesday at 6:30 p.m.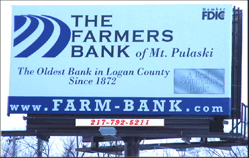 About the museum
Through its indoor and outdoor displays, the Heritage in Flight Museum offers an up-close view of aviation, its history, impacts on technology and aviation's part in protecting our country in times of war.
The museum has been an attraction appreciated for its local history collection, as well as of interest to international visitors who would like to learn more about our country, as much as to aviation enthusiasts. Visitors have flown in, driven in from the easy access to Interstate 55 and Route 10, and some have been following historic Route 66.
At the airport, visitors will find that the primary indoor display area for the museum is a bit of history itself. It is a former Camp Ellis barracks that was located west of Havana, Ill., and brought to the airport after World War II.
Inside, visitors will find numerous items and documentation of aviation history. Displays include military and civilian branches of flying.
Through the donations of Logan County veterans and their families, the stories of local war heroes also unfold. And, long-forgotten practices re-emerge that held communities together in wartime.
Whether it is from the communication radios used in airplanes and on ships, or other equipment and instruments found on display, a visual tale is spelled out loudly about the astonishing progress of technology in the last century.
The numerous displays are mostly grouped by wartime periods. Little-known nuances found in displays make history fascinating. Visitors to the museum often say that they gained a greater sense of appreciation for history and the patriotism of each era.
Indoor displays are also found in the large hangar next door to the barracks. There visitors will find restored jeeps and other vehicles, a balloon and basket, lighted working display engines, authentic reproductions of military aircraft nose art re-created on cowlings and other aircraft parts, and much more from aviation's more than 100-year history.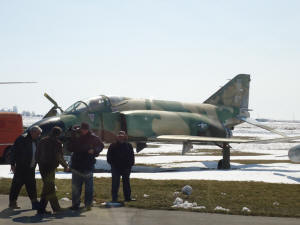 The outdoor displays offer an impressive flight line of vintage aircraft, military jets and helicopters, as well as vehicles, and are open 24/7.
Another historic landmark at the airport is the beacon that Charles Lindbergh used to navigate his mail route between St. Louis and Chicago. The beacon, which is still operational today, was part of the lighted airway system in the 1920s. Previously located between Atlanta and Lincoln, this beacon now identifies the Logan County Airport for pilots flying at night. It is also activated when weather conditions fall below visible flight rules.
The museum is always interested in adding items of history. However, the greatest need is for more volunteers to help in the guardianship of this important collection.
Heritage in Flight Museum is operated by an all-volunteer, nonprofit organization, Heritage-In-Flight Inc. People interested are invited to come and meet the members and sit in on their meetings anytime. Meetings take place at the airport at 1 p.m. on the first Saturday of each month.
A guided tour is recommended to get the most from a visit. Call 217-732-3333 and leave a message to arrange a visit or a tour time. School and youth groups are especially welcome.
Heritage in Flight Museum is located at 1351 Airport Road, Lincoln. Also visit www.heritageinflight.org.
[LDN]