Kenneth Davison
[April 22, 2013] MIDDLETOWN -- Kenneth G. Davison, 87, of Middletown, died Sunday, April 21, 2013, at 7:21 a.m. at Memorial Medical Center in Springfield.
(Below is a copy of the obituary from the funeral home.)
___
Middletown: Kenneth G. Davison, 87, of Middletown, passed away at 7:21 A.M. Sunday April 21, 2013 at Memorial Medical Center in Springfield.
Kenneth was born on March 19, 1926, son of Walter G. and Nettie Banister Davison. He married Alberta Sipe on April 26, 1944 in Petersburg. She survives him in Middletown. He worked at Fiat –Allis as a mechanic. He was a member of the Sweetwater Christian Church, American Legion Post # 672 in Middletown, Logan County Auxiliary Police, 40&08, Logan County and Greenview Amvets, Lincoln Eagle Lodge #2708, Greenview Masonic Lodge # 653, was member of the Springfield Shiners, Lincoln VFW, worked security at Logan County Courthouse, volunteer fireman in Middletown, and was mayor of Middletown for 18 years.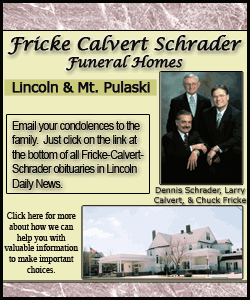 He is survived by one son: Kenneth G. (Donna) Davison of Chino, CA; one sister: Lois J. Boyer of Lincoln; one brother: Walter G. Davison (Geri) of Green Valley, IL; 2 grandchildren and 4 great-grandchildren. He was preceded in death by his parents and brothers Edwin, Robert and Dean Davison.
Services for Kenneth will be 10 A.M. Thursday April 25, 2013 at Fricke- Calvert-Schrader Funeral Home in Lincoln and will be officiated by Pastor Roger James. Visitation will be from 4-7 Wednesday April 24, 2013 at the funeral home. Burial will follow the service at Irish Grove Cemetery in Middletown where full military honors will be accorded by Middletown American Legion Post #672. Memorials may be made to the Sweetwater Christian Church.