Wayne Karrick
[April 22, 2013] BLOOMINGTON -- Wayne E. Karrick, 64, of Bloomington, died Thursday, April 18, 2013.
(Below is a copy of the obituary from the funeral home.)
___
Wayne E. Karrick, 64, of Bloomington, passed away April 18, 2013.
Cremation rites will be accorded. Graveside services will be Friday, April 26, 2013 at 12:00 Noon at Camp Butler National Cemetery in Riverton, Illinois.
Wayne was born July 1, 1948 in Springfield, Illinois, the son of Edward and Rachel (Yates) Karrick.
He proudly served his country in the United States Army.
Surviving are five children: Edward (Kelly) Karrick of Springfield, IL., Darren (Cat) Karrick of Lincoln, IL., Tammy (Bradley) Begolka of Armington, IL., Paul (Alicia) Karrick of Effingham, IL., and Nick (Tera) Oliver of Heyworth, IL. Also surviving are 13 grandchildren, 6 step grandchildren, 1 great grandchild, and 3 step great grandchildren along with brothers Herbert (Gloria J.) Karrick of Bullpit, IL and Dennis (Debbi) Karrick of Chestnut, IL., and sister Gloria S. (Rue) Tungate of Union, IL.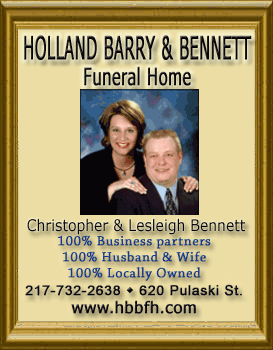 He was preceded in death by his parents.
Memorial donations may be made to the family.
Arrangements are being handled by Holland Barry & Bennett Funeral Home in Lincoln.