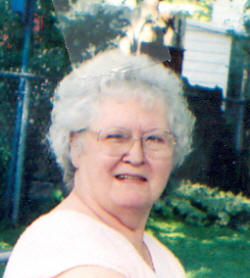 Joyce Robinson
[April 20, 2013] SPRINGFIELD -- Joyce Lorraine Robinson, 78, of Springfield, died Friday, April 19, 2013, at 5:32 p.m. at Memorial Medical Center in Springfield.
(Below is a copy of the obituary from the funeral home.)
___
Springfield: Joyce Lorraine Robinson, 78, of Springfield, passed away at 5:32 P.M. Friday April 19, 2013 at Memorial Medical Center in Springfield.
Joyce was born on April 25, 1934 in Lake Fork, IL to Abijah and Lola Reynolds Green Jr. She was a housekeeper at Franklin Life Insurance Company for many years. She enjoyed her fish aquarium, flower gardening and putting together jigsaw puzzles.
She is survived by two sons, Thomas (Ellen) Robinson of Sherman, and Allan (Linda) Robinson of Springfield, one granddaughter Jessica (Michael) Dauphinee, three great-grandchildren, Michael, Mason, and Madlyn, one sister Louise Blankenship, one brother, Don (Peggy) Green, as well as several nieces, nephews and cousins.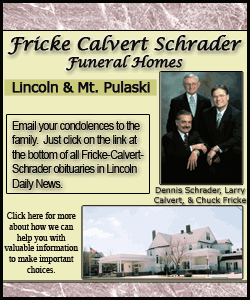 She was preceded in death by her parents, a twin brother Gene D. Green and two other brothers Leland and Lee Green, and three sisters, Ruby Agnew, Edith Duggan and Norma Goodman.
Funeral services will be held at 10:00 A.M. Wednesday April 24, 2013 at Fricke-Calvert-Schrader Funeral Home in Mt. Pulaski with Rev. Craig Sweet officiating. Visitation will be from 4:00-7:00 P.M. Tuesday evening at the funeral home. Burial will be at Steenbergen Cemetery, rural Mt. Pulaski. Memorials may be made to the American Diabetes Association, American Heart Association or the Sherman United Methodist Church Building Fund.