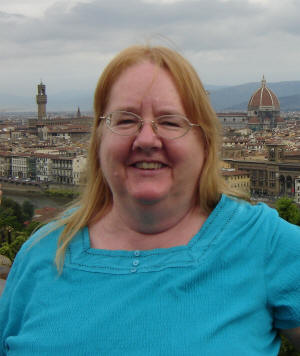 Tara Sennett
[April 17, 2013] LINCOLN -- Tara Sue Scales Sennett, 63, of Lincoln, died Monday, April 15, 2013, at her home.
(Below is a copy of the obituary from the funeral home.)
___
Lincoln- Tara Sue Scales Sennett, 63, of Lincoln went to worship at the feet of her Heavenly Father on Monday, April 15, 2013.
Funeral Services for Ms. Sennett will be held on Sunday, April 21, 2013 at 3:00 p.m. at Jefferson Street Christian Church in Lincoln with Mr. Dustin Fulton officiating.
Visitation will be held from 6:00 p.m. until 8:00 p.m. on Saturday, April 20, 2013 at the Church. Additional visitation will be held from 2:00 p.m. until 3:00 p.m. on Sunday at the Church.
Graveside services will be held on Monday, April 22, 2013 at 10:00 a.m. at Zion Cemetery in Lincoln.
Tara was born on March 15, 1950 in Peoria to Edward F. and Freda Lee Thompson Scales.
Surviving are her daughter: Gina (Shawn) Henderliter of Springfield, her beloved dog: Angel, four sisters: Cinda (Bob) Asp of Rockton, Ill., Sheri Crothers of San Antonio, Tx., Donna (Omar) Svensson of Bellevue, NE., Marta Kolasa of Chicago.
She was preceded in death by her parents and her dog, Bildad.
Memorials may be made to Girl Scouts of Central Illinois or to Lincoln Christian University.
Funeral arrangements have been entrusted to Peasley Funeral Home in Lincoln.
Tara was a lifelong teacher and student. She graduated from East Peoria High School, Illinois State University and Lincoln Christian Seminary. She taught at many schools in different areas of the country, including Lincoln Christian College and Cookson Hills Christian Missions in Oklahoma. Most recently, she worked as the secretary for Trinity Episcopal Church in Lincoln.
Even after her formal studies ended, she continued to learn both in and out of the classroom. Languages were of great interest to her. Over the years, she studied Latin, Greek, Hebrew, various ancient written languages, and even some Egyptian Hieroglyphics. Most recently, she was studying American Sign Language.
In addition to her language studies, Tara enjoyed anything that allowed her to work her brain and her hands. She loved word and number puzzles of all kinds, as well as various crafts such as sewing, weaving and crocheting. She put these to good use in her many years of service as a Girl Scout leader and trainer. She was also active in the local craft and quilting guilds, as well as in the "Sign & Dine" group, where she was able to practice her sign language skills.
Tara loved Lincoln and considered it her home. But even more, she loved her Lord. Her Bible and her prayer notes were her constant companion and comfort throughout her illness, especially Isaiah 40:31 - "but those who hope in the Lord will renew their strength. They will soar on wings like eagles; they will run and not grow weary, they will walk and not be faint."