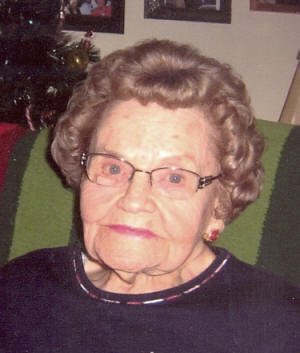 Ida Stabbe
[April 19, 2013] LINCOLN -- Ida F. Stabbe, 103, died Thursday, April 18, 2013, at her home, Friendship Manor.
(Below is the obituary from the funeral home.)
___
LINCOLN-Ida (Mahler) Stabbe, 103, of Lincoln, died at her home, Friendship Manor, on April 18, 2013. She lived joyfully and courageously. She entered her new life triumphantly.
Ida was born May 5, 1909 in Los Angeles, California the daughter of Frederick William and Bertha Amelia Balzerick Mahler. She married Roy Maxwell Cutlip and he preceded her in death in 1955. She then married Robert Sanders in 1962 and he preceded her in death in 1985. She then married Edward Stabbe in 1987 and he preceded her in death in 2004.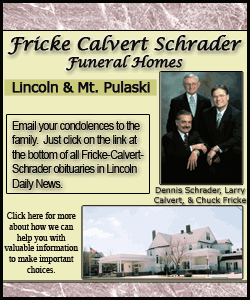 Surviving Ida is one son: William Fred (Jean) Cutlip of Ellensburg, WA; one daughter: Darlene "Sue" Walker of Lincoln; one sister: Bernice Lucille Hackett of Lincoln; thirteen grandchildren; twenty great grandchildren and five great great grandchildren. She was preceded in death by her parents; husbands; three brothers: Paul, John and one brother in infancy, Frederick Mahler; one sister: Catharine Read; and one son: Ronald Lynn Cutlip; one grandchild and one great great grandchild.
Ida had worked at the Lucas and Farmer Grocery Store, Lincoln Developmental Center; the Perk Up Shop; and restaurants, all in Lincoln. She was a member of Zion Lutheran Church of Lincoln.
Services for Ida will be Monday, April 22, 2013 at 10:00 a.m. at Fricke-Calvert-Schrader Funeral Home, Lincoln with Rev. Robert Baker officiating. Visitation will be Sunday, April 21 from 4:00-7:00 p.m. at the funeral Home. Memorials may be given to the Friendship Manor. Cremation rites will be accorded.