Hazel Zurkammer
[April 22, 2013] ATLANTA -- Hazel Marie Zurkammer, 105, of Atlanta, died Monday, April 22, 2013, at Symphony of Lincoln.
(Below is a copy of the obituary from the funeral home.)
___
Hazel Marie Zurkammer, 105, of Atlanta, passed away April 22, 2013 at Symphony of Lincoln.
Visitation will be from 11AM until 1PM on Thursday, April 25, 2013 at Holland Barry & Bennett Funeral Home in Lincoln. Funeral services will be at 1PM Thursday also at the funeral home. Burial will follow in Atlanta City Cemetery beside her husband.
Hazel was born in East Lincoln Township on November 29, 1907, a daughter of Anna Forsythe Laughery and Robert C. Laughery. She married Clarence Zurkammer on April 11, 1936 in Gifford, Illinois. He preceded her in death on June 8, 1990.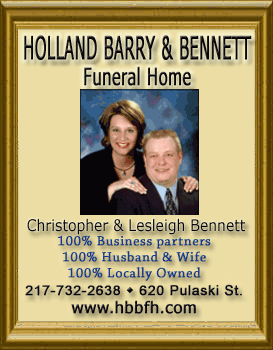 Hazel is survived by three children, Wayne (Pat) Zurkammer of Beason, IL., Cheryl (Gordon) Baldock of Bloomington, IL., and Ron (Bev) Zurkammer of Atlanta, IL. There are also four grandchildren and eight great grandchildren that survive.
She was preceded in death by her parents, her husband, one sister, and two brothers.
Memorial donations may be made to the Atlanta Rescue Squad or to the Atlanta Fire Department.