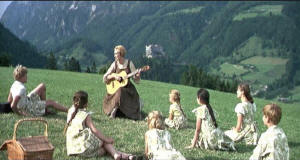 Lincoln Theater 4 presents 'The Sound of Music'
Send a link to a friend
[April 24, 2013] Lincoln Theater 4 has scheduled a seven-day screening of the digitally re-mastered 1965 classic "The Sound of Music." Screenings are scheduled for 3 p.m. and 6:45 p.m. daily, April 26 through May 2. The last show, at 6:45 p.m. on May 2, will be an audience singalong.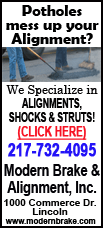 Winner of five Academy Awards, with music by Richard Rodgers, lyrics by Oscar Hammerstein II, and a book of the same title by Howard Lindsay and Russel Crouse, the movie is based on the memoir of Maria von Trapp, "The Story of the Trapp Family Singers."

Many songs from the musical have become standards, such as "Edelweiss," "My Favorite Things," "Climb Every Mountain," "Do-Re-Mi" and the title song, "The Sound of Music."

Ticket price will be $5 for all shows and will include the original intermission.

Lincoln Theater 4 is located at 215 S. Kickapoo St., just off the courthouse square in downtown Lincoln.

About the movie
"The Sound of Music" is one of the most popular and entertaining films of all time. Like "The Wizard of Oz," this family-friendly feature is well-known the world over and beloved by generations, due in large part to becoming an annual television event.
Upon its initial release, the Rodgers and Hammerstein classic received a multitude of awards including Oscars for best picture, best editing, best sound, best music score and best director for the versatile and highly honored Robert Wise, who also directed best-picture winner "West Side Story." Interestingly enough, Wise agreed to direct after the film had been abandoned by William Wyler and only if 20th Century Fox agreed to finance his next picture, "The Sand Pebbles."
Based on a real family and the events in their life, this audience favorite tells the story of Maria, who, after proving too high-spirited for the other nuns in her convent, is sent off to work as a governess for the unruly children in the Von Trapp family in 1930s Austria, just before the outbreak of World War II. Julie Andrews, in only her third film, stars as the young and effervescent novice who charms her charges and wins the heart of their strict military father, played by Christopher Plummer, who ironically is known to actually despise the film. Throw in Nazis for some villainous adventure and angelic nuns for comic relief, and you have a film described as "well-constructed, perfectly written, wonderfully acted and brilliantly executed." Simply put, "The Sound of Music" has everything one could want in a movie. It's a timeless classic every family should share.
[Text from file received from Lincoln Theater 4]