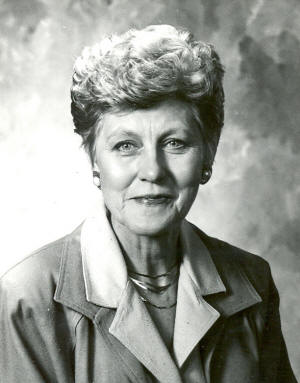 Mary Ellen Bruns
[April 22, 2013] LINCOLN -- Mary Ellen Bruns, 81, of Lincoln, died Sunday, April 21, 2013, at 3 p.m. at her home.
(Below is a copy of the obituary from the funeral home.)
___
LINCOLN-Mary Ellen Bruns, 81, of Lincoln passed away at her home at 3:00 p.m. on Sunday, April 21, 2013.
Mary Ellen was born on December 28, 1931 in Emden, IL the daughter of Henry and Anna Miller Reiners. She married George Lee "Shorty" Bruns on March 19, 1949 at Marshall, IL. He preceded her in death January 31, 2010.
She is survived by one son: Mike (Jill) Bruns of Emden, IL; one daughter: Sue (Louie) Fitzpatrick of Atlanta, IL.; two sisters: Ruth Worner of Champaign, IL and Dorothy (Bob) Alexander of Pekin, IL; six grandchildren: Angie Bruns; Sheree (Jerry) Stark; Chad Fitzpatrick; Jessica (Brandon) Booth; Rachel (Hugh Cios) Amberg; Lynette Amberg; nine great grandchildren: Victoria Fitzpatrick of Hartsburg, MO; Abegail and Garrett Fitzpatrick of Chestnut, IL; Addison and Connor Booth of Morton, IL; Ryan Hedrick of Lincoln, IL Madison, Jake, and Joshua Stark of Paletine. She was preceded in death by one son: Richard Leslie who died in 1951; one daughter: Barbara Ellen Amberg who died in 2007; two brothers: Earl and Donald Reiners.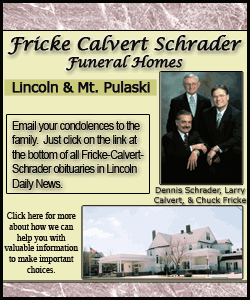 Mary Ellen retired as the Logan County Treasurer where she had served for 16 years; however she worked in the County Treasurer's office since 1976.
She was a member of First United Methodist Church of Lincoln; past member of Zonta; Junior Women's Club; Volunteer at Abraham Lincoln Memorial Hospital; past Board Member of Abraham Lincoln Memorial Hospital and Lincoln Rotary. She played in the Bell Choir at church and helped with teaching Sunday School.
Services for Mary Ellen will be 10:00 a.m. Friday, April 26, 2013 at the First United Methodist Church of Lincoln with Rev. Michael Paulson officiating. Visitation will be Thursday, April 25 from 4:00-7:00 p.m. at Fricke-Calvert-Schrader Funeral Home, Lincoln. Burial will be in Hartsburg Union Cemetery at Hartsburg, IL. Memorials may be given to Abraham Lincoln Memorial Hospital, First United Methodist Church or Memorial Home Hospice.