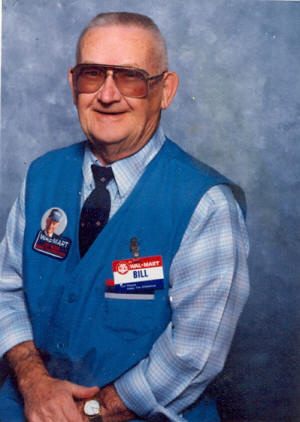 William Lahr
[April 23, 2013] LINCOLN -- William Edward Lahr, 90, of Lincoln, died Sunday, April 21, 2013, at 9:32 p.m. at his home.
(Below is a copy of the obituary from the funeral home.)
___
LINCOLN-William Edward Lahr, 90, of Lincoln passed away at his home at 9:32 p.m. on Sunday, April 21, 2013.
Bill was born December 19, 1922 in Lincoln, IL the son of Earl and Elsie Hindman Lahr. He married Margaret E. Benedict September 3, 1944 in Lincoln.
She survives in Lincoln.
Also surviving are three daughters: Judith (Eddie) Hughes; Linda (Charles) Banister; and Sharon Lahr, all of Lincoln; seven grandchildren; seven great grandchildren and one great great grandchild.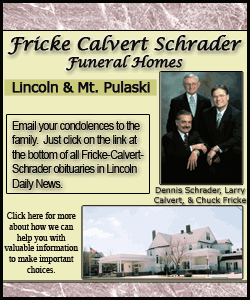 He was preceded in death by his parents, four sisters and five brothers; one son: John Lahr; a granddaughter: Dawn and a grandson: Robert.
Bill was a door greeter at Wal-Mart for 18 years.
Bill's wishes were to be cremated. A memorial service will be held at 2:00 p.m. on Monday, April 29, 2013 at Fricke-Calvert-Schrader Funeral Home, Lincoln with Rev. Michael Paulson officiating. Visitation will be one hour prior to service. Burial will be in Irish Grove Cemetery, rural Middletown, IL. Memorials may be given to the First United Methodist Church of Lincoln or the Lincoln Oasis Senior Center.