Small farm machinery and your body: Use both wisely

Send a link to a friend
[April 26, 2013] URBANA -- Safely matching the right tool to the right job is necessary in developing a sustainable small farm that is productive and profitable. The Central Illinois Sustainable Farming Network, which promotes the development of local food systems in central Illinois through farmer support and training, is presenting a field day on May 11 at the Spence Farm Foundation on "Small Farm Machinery and Your Body -- Using Both Wisely." The program will run from 9:45 a.m. to 3:30 p.m.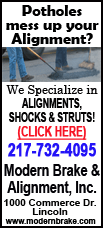 Topics covered in the sessions will include: choosing the right implements for the job, maintaining those tools, demonstrations of the machinery in action, and several different methods for avoiding injury while using large- and small-scale equipment. Maintaining farm machinery for optimal performance will also be addressed.

All sessions will focus on using equipment safely and using the most valuable tool you have, your body, carefully to prevent injury and strain. The different methods that large- and small-framed individuals need to follow to stay safe around farm machinery will be demonstrated. There will also be sessions about using hand tools efficiently and how to recuperate from injury.
The program will include tours of historic Spence Farm, where Kris, Will and Marty Travis grow vegetables, grains and hay; raise pastured cattle and hogs; do beekeeping; wild harvest; and make maple syrup. Participants will have a chance to see a variety of farm machines in action.
Spence Farm Foundation is dedicated to growing sustainable farms and communities and focuses on "teaching the art, history and practice of sustainable small family farming." It offers instruction to children, farmers and the public about farming and rural lifestyles, translating the vision of a diversified small family farm from the past to the present. For more details, visit www.spencefarmfoundation.org.
Register for the event by May 10 at http://web.extension.illinois.edu/lms/. The program is limited to 50 participants age 10 and up. The cost is $5 per participant. Members of the Central Illinois Sustainable Farming Network can attend at no charge.
Participants should bring a sack lunch and a folding chair. Drinks will be provided.
The Spence Farm -- Phelps Schoolhouse is located at 2959 N. 2050 East Road, Fairbury, in Livingston County.
[Text from file received from University of Illinois Extension]