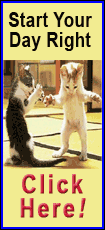 Really, Iggy? Ready to die? Not possible. I always thought it would be you and cockroaches at the end of time, man.
"Ready to Die" is the first album from Iggy Pop and members of his old band, the Stooges, since 2007 and the 2009 death of band mate Ron Asheton. And it's the first to feature former guitarist James Williamson since the 1970s.
It's classic "Raw Power"-era Stooges from the get-go on "Burn," a heavy-duty groove that kicks off the collection. And there's no letup for the next several tunes, including "Gun," which skewers a violent culture that just might lead its lone-wolf protagonist astray.
Yet the highlight of the collection might be when the assault lets up: on the un-Stooges like "Unfriendly World." Over spare, acoustic country blues, the 66-year-old Iggy is less your wild uncle and more wise elder, singing in a tender, wistful growl: "Hang onto your girl, cause this is an unfriendly world."