Library notes

Send a link to a friend

[July 27, 2013] Scholastic Book Fair

Keep your children reading right up until school starts. The library' s Scholastic Book Fair will be Aug. 1-3 in the Annex. You will find everything from board books for infants to young adult novels. Payment will be accepted by cash, check or credit cards. The hours are:

Thursday, Aug. 1 -- 9 a.m. to 6 p.m.

Friday, Aug. 2 -- 9 a.m. to 4:30 p.m.

Saturday, Aug. 3 -- 9 a.m. to noon

Come check out the selection, and remember, books make great birthday and Christmas gifts.

The annual used book sale at the library occurs during the Lincoln Art & Balloon Festival weekend. You will find a vast number of used books and a limited number of used DVDs, audio books and magazines. The hours are:

Saturday, Aug. 24 -- 9 a.m. to 5 p.m.

Sunday, Aug. 25 -- 10 a.m. to 2 p.m.

Prices are $1 per provided bag, and the library accepts payment by cash or check. Items go quickly, so make your plans now.

The Lincoln Public Library is located at 725 Pekin St., with adult nonfiction and reference materials in the historic Carnegie Building. The Annex directly behind houses adult fiction and the Youth Services Department.

All library events are free and open to the public. Online, visit www.lincolnpubliclibrary.org.

Hours are Mondays, Wednesdays and Fridays, 9 a.m.-5 p.m.; Tuesdays and Thursdays, 9 a.m.-7 p.m.; and Saturdays, 9 a.m.-1 p.m.

Phone 217-732-8878 for adult services and 217-732-5732 for youth services.
Miss Lou's blog
Louella Moreland, youth services librarian, has a blog that can be accessed by linking through the library website. She lists the library's new children's and young adult books and introduces library programs. Tell her your ideas and suggestions. You can also view videos and pictures of library programs.
Circulation news
Emails and text messages -- The library' s new computer program allows patrons to receive texts or emails for notification of reserved items and overdue notices. If you are interested in this service, please talk to a member of the circulation staff.
PINs -- Don' t forget to take advantage of a PIN number (password) for your account. With a PIN, you can search the entire Polaris system, see what items you have out, and request and renew books from home.
Gift certificates -- Need a gift idea? You can purchase a one-year library card for an individual or family living outside the library district. The library will provide a gift certificate for presenting, and the recipient can bring it in, along with a photo ID and proof of address, to receive their very own library card.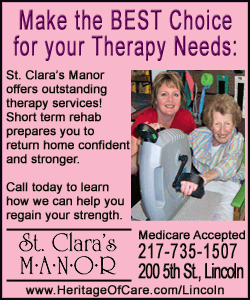 Book clubs -- The circulation desk in the Annex collects reading lists for all the book clubs in the area. So if you can't remember what you read or what you are supposed to read, you're covered. Drop off your lists at the circulation desk or email April Jensen, circulation manager, at apriljensen4@gmail.com.
Going on a trip? -- The circulation staff can put a hold on any outstanding requests you may have so you will get them when you return. Just stop by and let the staff know your travel dates.
Links on the library website
The library website has links to many free services, such as Library on the Go, WorldCat, Khan Academy, the improved World Book Web and the Ask a Librarian service, as well as various downloadable forms. Check out what's new.
[Text from file received from Marlene Perry, Lincoln Public Library]