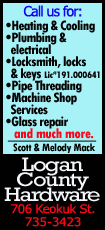 Kerstin Osborne of LJHS and Kayla Maly of West Lincoln-Broadwell tallied nine strikeouts and walked one in completing the no-no.
PORTA couldn't get anything going as long as Kayla was pitching. She held PORTA hitless over three innings, allowed no earned runs, walked none and struck out six.
Twelve runs in the first three innings helped the Trojans blow out PORTA. A passed ball, an RBI single by Chloe Laubenstein (LJHS) and an RBI single by Sydney Worth (LJHS) in the first inning and an RBI single by Ali Wilson (WLB) during the second inning helped the Trojans put some runs on the board early.
The Trojans' 15 hits were led by Kayla with a single and triple, as well as a flawless day at the dish by Ali, who went 4-4 against PORTA's pitching. Lincoln also had 11 RBIs, with Chloe contributing four.
[Text from file received from Steven Maly]