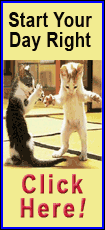 "Wallaroo joeys don't generally stick their heads out of the pouch until they are around 5 months old," says Jay Tetzloff, zoo superintendent.
The wallaroo is the third-largest type of kangaroo, native to Australia. The distinctive creatures can be identified in the Wallaby Walkabout exhibit at the zoo.
Miller Park Zoo is one of only five institutions successfully breeding this species. Last spring two wallaroos were born at the zoo as well, bringing the number of births in the Miller Park Zoo Species Survival Plan to eight in the last three years. Tetzloff, the zoo superintendent, is the vice coordinator for the Wallaroo SSP.
[Text from Miller Park Zoo news release received from Bloomington Parks & Recreation]