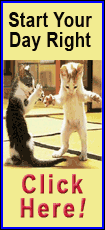 Alex Band was attacked outside a store in Lapeer early Sunday, the group told The Associated Press. The Calling had performed Saturday night at a festival in the city of 8,800, about 45 miles north of Detroit.
Band had a spinal fracture, three broken teeth and needed 15 stiches in his chin, The Calling said in a statement.
Police asked the public for help in investigating.
Detective Sgt. Craig Gormley said in a statement -- that doesn't name Band by name -- that the victim reported two males forced him into a minivan, then assaulted and robbed him before dropping him off at a railroad crossing.
The Los Angeles-based group's 2001 song, "Wherever You Will Go," was used in several TV series and in the movie "Coyote Ugly."
In its statement, The Calling said Band was visiting a mini-market after the show when "Alex was grabbed by his shirt and hit from behind."