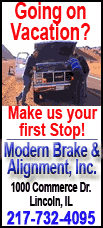 Brouillet said Yellow Brick Road is still a part of the family, but as it has aged a bit, it was time to bring something new into the mix.
"Yellow Brick Road is now over 20 years old," Brouillet said. "We will continue to fly it locally, but the fabric has become too porous to carry more than one passenger in the heat of the summer. I enjoy flying as many passengers as I can."
The new balloon, Envy, is a weave pattern in shades of green.
"We were introduced to the 'weave' pattern in St. Louis last fall and instantly fell in love with it. We added our favorite colors and now we are flying it." Brouillet said, "My daughter's choice (of name was) Green With Envy. I simply shortened it to Envy. The name leaves its meaning to the imagination."
Brouillet said that Envy is approximately the same size as Yellow Brick Road but has a rounder shape due to the manner in which it is constructed.
Brouillet began flying in 1993, and Yellow Brick Road was his first balloon, purchased in 1999. Since then he has logged over 350 hours in the air. This year will be his seventh year as a pilot in Lincoln, but he said that prior to piloting, he served on balloon crews at the festival all the way back to 1993.
Brouillet was born in Kankakee and continues to live in that area today. He and wife, Jane, have three daughters, all graduates of Illinois universities. Their youngest daughter, Danielle, is also active in aviation. After earning four degrees in aviation, she is employed by United Express, the regional carrier of United Airlines. All three daughters, along with a son-in-law and a grandson, Gavin, continue to crew for their father.
One highlight of Brouillet's career started in 2003. He and Danielle were invited to crew for Alan Blount at the BFA National Championship in Anderson, S.C. They were told by Blount that if he finished high enough in the rankings, he would qualify for the 2004 World Championships in Mildura, Australia. If he qualified, Pat, Danielle and Blount's daughter, Sarah, would be invited to crew for him in Australia. Alan did qualify, and the four of them spent two wonderful weeks ballooning and touring Australia in 2004.
Brouillet said he does plan to participate in the Saturday morning balloon target toss this year. As far as strategy for hitting the target goes, he said: "I find the 'baseball' throw to be my best strategy as I am not coordinated enough to make a 'windup' throw. The baggie always seems to get wound up on something or ends up going the wrong direction."
Brouillet has a total of 11 festivals on his calendar this year and said he very much enjoys coming to Lincoln.
"Everyone in Lincoln treats us like family," Brouillet said. "My sponsors welcome my family and crew to their restaurant every Friday for pizza, and they invite us to their home on Saturday for a cookout. The event organizers, the folks at Hicksgas, the staff at HI Express and everyone else in Lincoln make us feel welcome and accommodate us any way they can. Of course, competing before the huge crowds at the airport is always fun, too."
[By NILA SMITH]