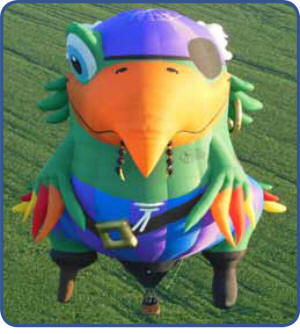 He may be a Pegleg, but don't expect to see Pete hopping along on the sidelines

Send a link to a friend
[August 22, 2013] He may be a Pegleg, but don't expect to see Pete hopping along on the sidelines
This year the special-shape balloon sponsored by the city of Lincoln is going to have a familiar face in the basket. Dave Reineke of Mahomet has been attending the Lincoln Art & Balloon Festival since 1990.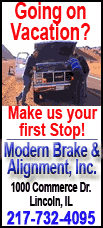 This year, Dave and wife Kathy, who is also a pilot and flies the well-known Sunsational, will be introducing their brand-new balloon, Pegleg Pete, to the festival.
Pete is a new balloon for the couple this year, and they are excited to be coming to Lincoln to share him with everyone here.
Reineke said that while Pete isn't an original design, he is still extremely special. Pete was the creation of an artist in Brazil and was actually built in St. Paul, Brazil, for the Reinekes.
Like several balloonists, piloting and crewing the balloon is a family affair. Reineke said that at the Lincoln festival it becomes somewhat of a family reunion, as his two grown daughters who live away from home travel to Lincoln to join their parents in the weekend of festivities.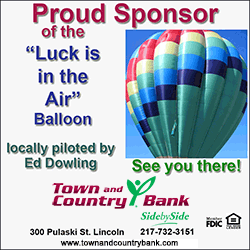 Reineke said that Pete, while intricately designed, is not a whole lot larger than regular balloons, so don't expect to see him hopping along the sidelines. Reineke said, weather permitting, of course, Pete will be airborne on both evening flights and is scheduled to glow one night.
In addition, Reineke and Pete plan to compete in the Saturday morning target toss. Reineke said he feels like he's fairly good at tossing the bag to the target, but for him, it really isn't the best part of the festival. "I'm a P.T. Barnum-type guy," Reineke said. "I enjoy the show!"
The Reinekes do take in several ballooning events each year. As a matter of fact, they were on their way home from an event in St. John's, Canada, when LDN caught up with them on the phone.
Reineke began flying in 1990 and wife Kathy took it up soon after. He said they enjoy coming to Lincoln each year. They like the size of the festival and the opportunity to spend time with other pilots.
[By NILA SMITH]