Using a favorite fall activity as its theme, Tailgating for Logan County will include a buffet meal, silent auction, WLCN 96.3 personalities Jim and Jeff on live-remote from 5 to 7 p.m., with the "Prize Girls" and additional giveaways. Jack Dupp will play from 8 to 11 p.m.

There will also be a drawing for a $500 Lincoln IGA grocery certificate. Raffle tickets for the drawing will be sold at the flea market in Scully Park this weekend, Friday-Sunday, Aug. 23-25. Raffle tickets are $1 each, or six for $5. The winner does not need to be present at the Oct. 12 drawing to win.

Tickets for the Tailgating for Logan County event are $10 per person and available at all State Bank of Lincoln facilities, Johnson's Hardware in Mount Pulaski, Atlanta National Bank in Atlanta and Kroger's in Lincoln (starting Monday, Aug. 26). Tickets may also be purchased from board members or at the United Way office, 120 S. McLean, inside the Logan County Farm Bureau building.
---

Walgreens and United Way partner to provide school supplies
Walgreens and United Way of Logan County are partnering to assist students as they begin the new school year. Customers may purchase school supplies and place them in boxes provided at the front counters of Walgreens, 603 Woodlawn Road, through the end of August.
"We'll collect all the supplies customers are willing to contribute," said Ron Ackerman, manager of the Lincoln Walgreens.
The local store is promoting the project inside the store and using signage to remind customers to purchase school supplies for the project up to Aug. 24.
But Ackerman said: "If supplies continue to be added, we can leave the collection boxes out for a few more days. The scheduled pickup is the last week of August, so customers are welcome to come in and be part of making a difference for the kids."
Marla Blair, administrative director of United Way of Logan County, will collect the supplies and distribute them to schools in Logan County to help teachers provide necessary supplies for students.
---

Illinois 4-H Foundation honors Legacy of Leadership Scholars
Cameron Jodlowski among recipients
Six college-bound Illinois 4-H members were recognized as 4-H Legacy of Leadership Scholars during the annual 4-H Family Event on Aug. 10 at the Illinois State Fair. The winners each received a $1,000 college scholarship.
Among those selected was Cameron Jodlowski, a 10-year member of the Atlanta Town & Country 4-H in Logan County. He will attend Iowa State University. The scholarship sponsor was Farm Credit Services of Illinois, represented at the 4-H Family Event by Rod Stoll.
Since its inception in 2003, 61 4-H members have been named a Legacy of Leadership Scholar. The scholarship is merit-based and available to 4-H members who are high school seniors or in their last year of 4-H membership. The statewide scholarship program is coordinated by the Illinois 4-H Foundation and the University of Illinois Extension state 4-H office.
The Illinois 4-H Foundation welcomes individuals, corporations and organizations as partners in providing additional funds for further scholarship recipients. The executive director of the foundation is Angie Barnard.
Illinois 4-H is part of the University of Illinois Extension program that is offered through the University of Illinois at Urbana-Champaign, the Federal Extension Service and the United States Department of Agriculture.
---

4-H Foundation inducts largest-ever Hall of Fame class ... Kathleen Buse among inductees
The Illinois 4-H Hall of Fame recognized 65 new inductees during the 4-H Family Event on Aug. 10 at the Illinois State Fair.
Kathleen Buse from Logan County is included in the Illinois 4-H Hall of Fame Class of 2013. Buse is leader of the Wide-A-Wake 4-H club, kitchen manager for the spaghetti meal sponsored by the 4-H Foundation, organizer of the summer International Cooking Camp program and a longtime Logan County 4-H volunteer who has put in countless hours of support toward the local 4-H program.
The Hall of Fame is designed to recognize exceptional 4-H alumni, 4-H volunteers and former 4-H staff who have a track record of extraordinary career achievement or exemplary service to 4-H.
"This is our ninth class of inductees since recognition began in 2004," said Angie Barnard, director of the Illinois 4-H Foundation. "Itís also our largest class, and we commend them for their commitment to the Illinois 4-H Youth Development Program.
"These longtime volunteers fully embody what 4-H strives to instill in youth," Barnard continued. "They are caring, dedicated, generous leaders. The Illinois 4-H Foundation is extremely proud to be able to provide this honor to each and every one of them, and we thank them for their service to this wonderful organization."
Each inductee received a commemorative Hall of Fame medallion and will be added to the virtual 4-H Hall of Fame listing at http://4hfoundation.illinois.edu/hall_of_fame.
The Illinois 4-H Foundation established the statewide Hall of Fame in 2004, and nominations are made by University of Illinois Extension staff.
The Illinois 4-H Foundation raises private funds that are invested in Illinois 4-H programs that provide meaningful, positive development experiences for Illinois youth to develop leadership, citizenship and life skills. To learn more, visit http://4hfoundation.illinois.edu/.
---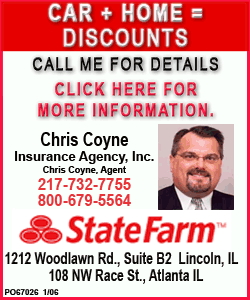 ---

Safe Ride available for balloon fest weekend

There's a safer alternative to driving for anyone who has too much to drink during the Lincoln Art & Balloon Festival this weekend. Safe Ride will be available in Lincoln on Friday and Saturday to those who need it. Safe Ride is a free ride home, sponsored by the Healthy Communities Partnership.

"Safe Ride keeps the streets safer on nights when children and families are more likely to be celebrating away from home. Our hope is that the community will remember the service is available and that bartenders will suggest it when necessary," said Angela Stoltzenburg, manager of the Healthy Communities Partnership.

Safe Ride will also be available on Labor Day weekend, the night before Thanksgiving, Christmas Eve and New Year's Eve.

To receive a free ride home within the city limits on any of these nights, call the cab company, A Green Cab of Lincoln, at 732-8294.

Healthy Communities Partnership is a collaborative organization comprised of dozens of community agencies. It is supported by the Abraham Lincoln Healthcare Foundation. For more information, visit Healthy Communities Partnership on Facebook.
---

Lincoln Woman's Club to host art fair luncheon
The Lincoln Woman's Club will host its annual art fair luncheon on Saturday, Aug. 24, from 11 a.m. to 3 p.m. and Sunday, Aug. 25, from 11 a.m. to 2 p.m.
For more than 30 years, the Woman's Club has hosted the fundraising luncheon in the club's historic building at 230 N. McLean St. during the Lincoln Art Fair.
This year the club will again serve pork barbecue, coleslaw, baked beans, chips and homemade pie. A new addition to the menu is Avanti sub sandwiches. Items may be purchased individually, but this year the club is also offering a full meal of a sandwich, two sides, homemade pie and a drink for $8.
Lincoln Woman's Club uses the funds to support its volunteer mission. The club has been an active part of the community since 1896.
---

Mount Pulaski to honor 2 outstanding citizens
MOUNT PULASKI -- The Mount Pulaski Township Park District is recognizing two individuals who have given their time, experience, selflessness and dedication in working with countless youth and for the betterment of the community of Mount Pulaski. The two honorees are Robert L. Gasaway and the late Edward Butkovich.
The baseball field at Veterans Park will be named Robert L. Gasaway Field, and the drive from Elkhart Road into the park will be named Ed Butkovich Drive. There will be a dedication ceremony on Saturday, Sept. 7, at 3 p.m. at the park.
Family, friends, players and city council members are encouraged to attend. Anyone who desires to speak on behalf of the two gentlemen being honored is encouraged to attend and provide comments.
A news release from the park district said of Gasaway and Butkovich: "As role models, their efforts have led to the shaping of lives and contributed to the success of their students who followed after them. Their accomplishments as teachers and coaches are admirable and have set a standard for emulation for all."
---

Chamber launches mobile app for Lincoln Art & Balloon Festival

The Lincoln/Logan County Chamber of Commerce, in partnership with Integrity Data, has created a new mobile app for the Lincoln Art & Balloon Festival to help festival-goers have all the event information in the palm of their hands anytime, night or day. This free mobile app is designed to help festival guests maximize their experience and time at the event.

"We are hoping that the mobile app will help enhance the experience for guests to the festival," said Andi Hake, executive director of the chamber of commerce. "Finding a way to better communicate with our guests has been an ongoing challenge for years. It is our hope that many people will download the new app and find answers to all of their questions and help prepare them for the weekend's festivities.

"We couldn't have accomplished this project without the help from Integrity Data. Patrick Doolin made the process of getting all the data in this app and all the many decisions that go along with creating something like this seem less daunting than I had originally expected," said Hake.

When the app is downloaded, the viewer can look at the festival's schedule of events at both the Logan County Airport and downtown Lincoln. Viewers can see which artists, crafters, wineries, breweries and barbecue competitors will be present. The app also has a section dedicated to the hot air balloon pilots, even featuring pictures of the hot air balloons and a biography of each pilot. In addition, the new app gives information on the live entertainment that will perform downtown and at the airport.

Guests can set their own schedules in the mobile app to help them plan for the weekend's events, get notifications about balloon flight and glow times, and receive any other pertinent information that may be released during the weekend.

Out-of-town guests at the event can find information about the community, directions, hotels and restaurants to help them navigate through Lincoln. And if that is not enough information, the complete festival program can be viewed under the documents section.

The mobile app is now available for download and is available for both iPhone and Android. All other phones can view a mobile website that will give them the same information.

For more details on the mobile app or any other questions regarding the Lincoln Art & Balloon Festival, contact the Lincoln/Logan County Chamber of Commerce at 217-735-2385 events@lincolnillinois.com.

To download the Lincoln Art & Balloon Festival mobile app, click here.
---