---
| | |
| --- | --- |
| Click on Maske Auction Service ad for sale bills and listings of auctions and goods. | |
---
To Settle the Estate of Icem Hillard Cook
Auction to be held on
Saturday, August 24, 2013
Auction Starts at 10 a.m.
Auction to be held at 2258 2175 Ave
Atlanta, IL 61723
Mobile Home
1991 Fairmont Mobile Home House Trailer – Very Clean and in good condition. 980 Square Feet. Has a clear title and the 2013 Trailer tax has been paid. This must be moved from the property within 30 days of the sale. Serial # is MY9179179
Guns Must have a valid F.O.I.D. Card to bid.
Winchester Model 37 – 12 Gauge single shot gun, Stevens Arms and Tool Co. – 12 Gauge single shot gun, WestPoint Model 501 – 22 Rifle (serial # 20449321), Ward's Western Field 410 single shot gun (3 inch) – Model 10-SB94-B, Mossberg Model 185 K-A 20 gage 2 Ύ inch adjustable choke bolt action (3 shot clip), Gun Racks
Vehicles
2001 Chevy Cavalier
Tools
Machinist Tools, Electric Grinder with stand, Tool Boxes, Table saw, Lathe, Hand Saws, Electric Motors, Nails, Misc. Shop Tools
Outdoors Items
Steel Posts, Electric fence w/ insulators, Wood, Concrete Blocks, Shingles, Scaffolding, Fishing Poles, Traps, Pressure Washer, 1200 PSI, Gas Grill
Mowers
5 ft Woods Ruff Cut 3pt Mower, JD 300 Lawn tractor with mower /deck (needs engine work)
House Hold Items
Beds, Dressers, Corner Cabinet, End Tables, Kitchen Table and Chairs, TV, Air conditioner, Refrigerator, Gas Stove, , Washer and Dryer, Chest Freezer, Lamps, Desk, Work stand, , Pots, Pans, and other Kitchen Items, Cook Books, Humidifier, Picture Frames
Misc. Items
Toy Tractors, NASCAR Items, LP and 45 Records, VHS Tapes, Wheelchair, Golf Clubs, Hats
This is a very clean Estate sale. All items are in good working order. Something for everyone!
Food will be available and served by The Atlanta Masonic Lodge-65.
Please contact Naughton Auction Service
Naughton Auction Service
Atlanta, IL

Dan Naughton Lic. # 441.000312
Cell # (217)304-6502
Terms: Cash or Good Check, items must be settled for that day. Not Responsible for Accidents or Merchandise After Sold.
See Photos @ auctionzip.com #12635
Full Sale Bill at www.naughtonauction.com

Send a link to a friend
---
7:00 p.m.
Sale to be held at: Atlanta Firehouse, Atlanta, Il.
118.3 Acres, more or less or rolling ground, waterways & timber; 97.8 tillable acres, more or less Eminence Township,
Logan County, Il.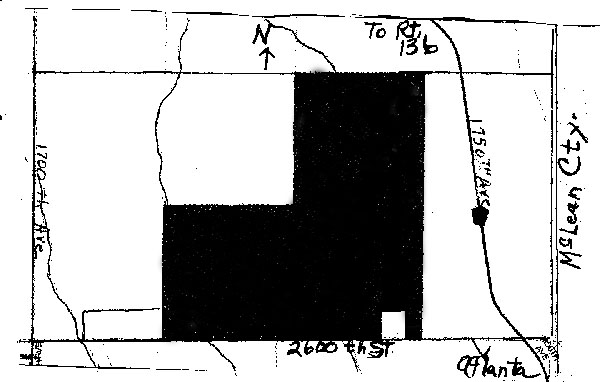 Directions: West of Atlanta on 1794 Ave. to 2600 St., then West Ό mile; or 1 mile South of Rt. 136 on 1794 Ave. to 2600 St., then West Ό mile; or 7 miles West of McLean, Il. on Rt. 136 to 1794 Ave.
Leona F. Bicknell Estate
Joseph B. Taylor, Attorney
216 S. Circle St., P.O. Box 478 Clinton, Il. 61727
Phone: 217-935-2183 or 27-935-8818
TERMS: 10% down on day of sale with balance due after the crop is harvested. Announcements on the sale of the sale take precedence over printed material. Owner has the to reject the bids.
White Auction Service
Auctioneer: Col. Dan White
Il. License Number: 440000381
501 S. Kickapoo St., Lincoln, IL
Phone: 217-732-4718 or Cell: 217-737-8984

Send a link to a friend
---

Livestock Equipment Auction
Thursday September 05, 2013
10:00AM



525 1000th St, Middletown, IL 62666
(4 miles West of Broadwell, IL)
The Conrady Family has decided to discontinue their hog confinement operation.
The auction will begin at the main farm approximately 4 miles west of Broadwell , IL on Co Rd 1000. After all of the items are sold at this location we will move to the Conrady farm located 1/2 mile east of Broadwell at 863 1010th St.
TRACTORS: IH 1456 tractor, S#13984, year Round Cab, 18.4-38" tires, 10,000+ hours 2 o/l, 2 pto; John Deere 4010, S#16369 diesel tractor, 10,000+ hrs., wide front, Syncro range trans.; JD 148 loader w/60" bucket;
SKID STEER: Case 1835 B skid loader, 3227 hrs, 60" bucket, S#17167959, 4 cylinder gas;
GRAIN TRUCK: Chevy C70 grain truck, 14' bed, 10.00-20 tires, 44,800 miles, 366 engine, VID#17DB9V179436;
MIXER GRINDERS: Artsway PM 35 & 30 Mixer Grinders, both w/digital scales;
MISC. FARM EQUIPMENT: Hanover 18,000 GVW triple axle gooseneck trailer; Lazy N 7'x28' Gooseneck Trailer; 1500 gal steel tank on John Blue tandem axle trailer, 14.1-16.1 tires; Pincor & Winco 55 \K, 1000 RPM generator on cart; Mayrath 6"&8"x62' augers; front mt. tractor fuel tank; 3 point bale mover;
LIVESTOCK RELATED: (2) Lifetime hog lift carts, 6'x15'; 8'x 30"& 8'x 36" lined incinerator w/250 gal fuel tank; 8ton Grain-o-vator feed truck box; 6' pipe gates & hangers; wire winder; show box; (10)LB White heaters; new feeder parts; (2) rolls, 48" Red Brand woven wire, never used; aluminum hand gates; heat pads; (6) tube exhaust fans; steel posts;
GATES: (54) 80"X36" rod gates; wood gates; 6' pipe gates; misc length gates; wire panels;
FEEDERS: (80) 9.5 bu. Osborn feeders; (3) Pannier 6 ton, 16 hole feeders;
UTLILTY SHED & BUILDINGS: 10'x12' utility shed on skids; (12) 12'X18' pull together sheds;
FARROWING CRATES: (22) Lifetime LG farrowing crates; (24) old style crates;
FLOORING; (16) sheets of 5'x8' Tenderfoot flooring;
BULK BINS: (19 Total bins) 30t-2 yrs old, (2)24t, 16t, (6)8t w/110' feeding system, several 7 & 4t & other misc bins;
MISCELLANEOUS:150 bales of wire tie straw; electric motors;
SKY BOAT: Star Craft 22' aluminum hull sky boat & trailer, 4 cyl inboard engine, needs work; 14' aluminum John boat;
Owners:
Margaret Conrady Estate, Mike Conrady, Tom Conrady
For more information contact Tom Conrady (217) 737-7313
Mike Maske Auction Service
119 S. Lafayette St., Mt. Pulaski, IL 62548
(217) 519-3959
TERMS: Cash or good negotiable check payable on the day of the Auction. Registration video taped and a valid photo ID is required to obtain a buyers number. Buyers must show provided number for each and every purchase. Announcements sale day take precedence over printed material. Not responsible for accidents or property after sold. All purchased items must be removed form the sale site within 2 weeks from the date of the auction.
LUNCH SERVED

Send a link to a friend