The prints, which will sell for $10 each, will be available as long as there is interest. The cost of the initial release of 500 is being paid for by community leaders and businesses; thus, all sales proceeds from the initial offering will go into the Oasis Fire Fund.

Committee member Mike Fak said a preliminary showing of the prints at several recent events showed a strong interest in several of the prints, with all receiving at least some attention.

"We have an idea which ones we will sell more copies of, but you can never be sure," Fak said. The print run is flexible, with increases in production of whichever prints receive the most interest being no problem for Lincoln Printers, a sponsor and the company that is doing the prints.

The prints will make their debut at the Sept. 8 Legion Post 263 breakfast buffet, and a respectable quantity will be available for purchase that morning.

The prints will also be on display at the Lincoln Art Institute on the square, along with several dozen other photos of the fire. Patrons will be able to buy the prints at the institute throughout September. Other locations where the prints can be purchased will be announced later.

The committee hopes that the demand for these prints will exceed the initial printing and that several more runs of the prints will be needed.
---

Lincoln Honor Flight scheduled for Sept. 10
SPRINGFIELD -- On Sept. 10, Land of Lincoln Honor Flight will honor 28 more World War II veterans and 57 more Korean veterans with a one-day trip to Washington, D.C., to see the World War II Memorial, Korean Memorial, Vietnam Memorial, Arlington Cemetery, National Air and Space Museum, and other memorials. Seventy-five guardians who are responsible for the veterans' comfort and safety will also be on this trip, which is the 23rd Land of Lincoln Honor Flight and the fifth flight this year.
Donations and efforts of many individuals, organizations and businesses have allowed Land of Lincoln Honor Flight to honor these veterans.
The public is invited to a "welcome home" ceremony for these WWII and Korean era veterans when the plane arrives back at Abraham Lincoln Capital Airport at 9:30 p.m. on Sept. 10. Wear red, white and blue to show your appreciation.
Veterans on this flight come from the Illinois towns of Alton, Arenzville, Ashland, Athens, Bloomington, Bunker Hill, Bushnell, Canton, Chatham, Clinton, Cuba, Delavan, Divernon, Eureka, Flanagan, Forsyth, Franklin, Glenwood, Godfrey, Granite City, Greenview, Gridley, Havana, Hillsboro, Hopedale, Hudson, Jerseyville, Kincaid, LeRoy, Lincoln, Mason City, Mechanicsburg, Middletown, Minier, Morton, Normal, Palmyra, Peoria, Petersburg, Rochester, San Jose, Springfield, Staunton, Stonington, Taylorville, Tremont, Wapella, Waverly, Williamsville and Winnetka.
Applications are still being accepted for the following, but WWII veterans will be served first:
Veterans who enlisted by Dec. 31, 1946 (WWII -- 50 currently on the list)

Veterans who served Jan. 1, 1947, through Dec. 31, 1957 (Korean era -- 207 currently on the list)

Veterans who served Jan. 1, 1958, through May 7, 1975 (189 currently on the list)
The last 2013 flight will be on Oct. 22 and is full.
The Land of Lincoln Honor Flight board welcomes the chance to speak to organizations, businesses, churches, conventions or other groups about the Honor Flight mission, future flights, guardian duties, fundraising and donations.
For more information about how individuals and groups can help the mission, how to obtain applications, how to become a member, and to learn more about Land of Lincoln Honor Flight, go to www.landoflincolnhonorflight.org or contact Ray Wiedle: home, 314-427-2317; cellphone, 217-622-1473; email arwiedle@sbcglobal.net.
---

Delavan Fall Festival brings top-notch entertainment this weekend
DELAVAN -- An Armington family band known as Sundown will perform at the Delavan Fall Festival on Saturday from 1:30 to 3 p.m. at the Lake Park pavilion. John Ingram and his 14-year-old triplets form this band, which plays a variety of music, including country, blues, original rock and gospel. Sundown has played in many talent shows, benefits, jamborees and festivals. John Ingram plays the guitar and does vocals, with Johnnie on drums, Richie on lead guitar and Casey on bass. They have recently completed a CD called "Long Way From Home."
Rusty Barr and The Good Ole Boys will perform Saturday in the large pavilion from 4 to 6 p.m. with some traditional country music and Texas swing. Barr comes from Havana and has been playing music for a number of years with various groups. Rusty and The Good Ole Boys performed at the Delavan Fall Festival previously and received a warm response to their style of music. They will keep your toes tappin' and your hands clappin'.
Terry Lynn Barton is bringing her talents and her Down Home Country Band to the Delavan Fall Festival on Saturday night. She has performed in Illinois, Indiana, Iowa, Missouri and Kentucky and is considered one of the finest female country singers in the Midwest. Members of this group are Barton with vocals and keyboard; Laura Laughery Charron, vocals; Leon Mercer, steel guitar; Bill Bennett, lead guitar; Ron Demlow, lead guitar and vocals; Jim Slayback, drums; Russ Barton, bass; and Brad Downs, sound engineer. Chris Krause will appear with them as a special guest.
The entertainment lineup will continue on Sunday with live music to kick off the afternoon and a grand finale of fireworks at dusk.
The Last Band Standing will perform Sunday afternoon from 1 to 3:30 under the big pavilion. This band is what's left of the New Salem Country Opry. They were the last band playing at the New Salem Country Opry before it closed in 2011, which is where their name comes from. This group plays mostly classic country music, with a little rock 'n' roll mixed in. These fellows have performed in the park many times and are a very talented group, each a musician in his own right, as well as singing their favorite songs.
The annual talent show and contest will take place from 4 to 5:30 p.m. Sunday in the Lake Park amphitheater. This is a perfect opportunity to show off what you can do, and prizes will be awarded. Normally there are three age categories. If you haven't already signed up, contact Debbie Tomm-Woiwode at 244-8514. The organizers know there is a lot of talent out there, as was displayed in the recent production of "Cinderella" at the Delavan school. The Delavan Township Park Board is sponsoring the talent contest this year.
The last group on the Sunday music schedule is Bridges, formerly called the Dynamics. This group consists of Chris Hawkins, guitarist and lead vocals; Betty Giacobozzi, keyboardist and lead vocals; and Phyllis Staker, lead guitar, bass pedals, lead vocals and harmonica. They play a mix of old standards, country and a little rock 'n' roll, playing off the audience to see what the listeners respond to -- a sign of real professionalism. The group has played throughout central Illinois at many fairs and festivals, as well as Chris and Betty doing many car shows, so the audience is sure to be entertained with the tunes they hear. Bridges will play under the big pavilion on Sunday from 5:30 to 8:30 p.m., just ahead of the fireworks.
---

'Prayer in the Park' at noon Sept. 11
On Sept. 11 at noon, a group will gather at the bandstand in Latham Park to spend a short time in prayer for the physical and spiritual needs of Lincoln and Logan County.
The group would like to pray for answers that we are desiring to see in our community, churches, schools and local government. The focus will be on thanksgiving and the plans God has for this community to bring His wisdom, opportunities for growth and also healing of hearts, lives, businesses and relationships.
The public is invited to join this short time of prayer.
---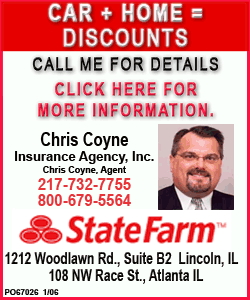 ---

Miles for Memories 5K Walk/Run in Elkhart this weekend

ELKHART -- The second annual Miles for Memories 5K Walk/Run will take place in Elkhart on Saturday, Aug. 31. The race starts at Hudson's Talk of The Town, 115 Gov. Oglesby St. Registration begins at 7:30 a.m. and the race starts at 8.

All proceeds will be donated to the Alzheimer's Association, Greater Illinois Chapter, www.alz.org/illinois.

This race and walk is an off-road event with the course laid out over historic Elkhart Hill.

There will be awards for the male and female first-, second- and third-place finishers, and the first-place winners' names will be added to the "Braggin' Rights" plaque that hangs in the Talk of the Town.

A sausage gravy and biscuit breakfast will be served. It will be free of charge to participants, and a freewill offering will be accepted from those who didn't run or walk. A bloody mary bar will be available.

There will also be a bake sale and games for the kids.

Registration forms are available at Country Financial in Lincoln and at Hudson's Talk of the Town and Hometown Realty, both in Elkhart. The forms are also available by calling 217-750-1368 and online through www.htott.com.

Charlie Williams, Country Financial agent in Lincoln, is again sponsoring T-shirts for the event.

Participants are asked to bring a photo of the person or the reason they are participating. A collage will be compiled from the photos and will be displayed at the next race.

In America, 5 million people are living with Alzheimer's. It is the sixth-leading cause of death in this country. Join in fighting this disease by participating in the second annual 5K Miles for Memories.
---

Boy Scout Troop 102 holds flag retiring ceremony

Scout Troop 102 recently held a flag retiring ceremony at the Scout camp area in Kickapoo Creek Park. The ceremony is a very solemn event meant to dispose of worn and tattered flags in a respectful manner.

In all, the boys disposed of 13 flags during the ceremony.

Below is a copy of the ceremonial procedure and photos of the Scouts fulfilling their duty according to procedure.

(Copy)

Flag Retirement Ceremony

The flag of the United States of America is an honored symbol of our nation's unity, it's hopes, it's achievements, it's glory and it's high resolve. When the flag is in such condition, through wear or damage, that it is no longer a fitting emblem for display, it shall be destroyed in a dignified manner befitting such a symbol. The traditional way is to cut the flag into pieces and burn it in a modest but blazing fire. As we perform this respected duty, let us reflect on the design and meaning of our flag.

The Blue field or union is the point of honor, the upper comer of the Flag's own right. The symbolism of the right hand goes far back in antiquity when it was the weapon hand. Raising the right arm free of any weapon meant peace. It became a salute, a way of giving praise and honor. The union is blue, representing the night sky with stars forming a new and glorious constellation. There is one star for each state in our union. It is said the point of honor of our flag was made from the blue clock belonging to a captain in the Continental Army.

The stripes are symbolic of beams of morning light, rays emanating from the sun-- thirteen red and white stripes, one for each of the original thirteen colonies. The stripes in our flag were inspired by the rattlesnake flag flown on the ships of the Continental Fleet and the striped banner of the Sons of Liberty. Though the pattern has changed, the bars of shining red and gleaming white have remained. The stripes are alternating, seven red and six white. The red stands for courage and the blood of those brave men and women who fought and died to establish and preserve our republic; the white representing the purity and high moral resolve on which our country was founded.

The blue of a captain's cloak, the white of a soldier's shirt, the red from a flannel petticoat of a patriot's wife-- this was our flag. This is the flag that stands for honor -yours and mine.

We will now distribute the flag stripes to each person present.

At this time, we ask that each person holding a white stripe please come place it on the fire, laying it across the flames.

At this time, we ask that each person holding a red stripe please come place it on the fire, also laying it across the flames.

Scouts, you may now place the blue field of stars across the flames one at a time so that each field is consumed before the next one is retired.

As the fire consumes the worn and tattered material in its refining flame, let us remember the words of George Washington when the Star-spangled Banner was first flown by the Continental Army: "We take the stars from heaven and the red from our mother country. We separate the red by white stripes, thus showing that we have separated from her, and the white stripes shall go down to posterity representing liberty." Thus the Stars and Stripes became what it is; born amid the strife of battle, it has become the standard around which a free people have fought to preserve the greatest nation in the world.

[Ceremonial procedure copied from file received from Jennifer Craig]
---

Gail's Pumpkin Patch opens for the fall season

BEASON -- Gail's Pumpkin Patch, rural Beason, will open Sunday, Sept. 1, for their eighth season. The pumpkin patch will be open Sunday to Friday from 1 to 5:30 p.m. and Saturdays from 10 a.m. to 5:30 p.m. The final day of the season is Oct. 31.

The pumpkin patch has over 60 varieties of pumpkins and gourds, corn, Nate's honey and doughnuts, straw, apples, cider, mums, barrel train, toddler maze, baked goods and lots of crafts. It is loaded with fall decorations and fun for the whole family. New this year is Grandpa's Antique Tractor Porch and Toddler Corner. Admission is free, and you-pick or we-pick pumpkins are available.

Fall Farm Day will be Sunday, Sept. 8, from 1 to 5 p.m. The afternoon will include pumpkin and face painting, old-fashioned barn games, crafts, an observation beehive, and farm tours.

Gail's Pumpkin Patch is a family-owned pumpkin patch in Logan County. You will be able to find the "perfect pumpkin."

For more information, call 217-447-3409, visit on the Web at www.gailspumpkinpatch.com or email gail@gailspumpkinpatch.com.
---

Holy Family Catholic Church to sponsor blood drive

To help ensure an adequate blood supply for the region, Holy Family Catholic Church, 316 S. Logan St. in Lincoln, is hosting a blood drive on Friday, Sept. 6, from noon to 6 p.m.

For your convenience, call 1-866-GIVE-BLD (1-866-448-3253) toll-free to sign up, or schedule an appointment online using sponsor code 60505 at www.bloodcenterimpact.org. Walk-ins are also welcome and truly appreciated.

Central Illinois Community Blood Center, a not-for-profit organization, is the provider of lifesaving blood for 14 hospitals throughout central Illinois, including Abraham Lincoln Memorial Hospital in Lincoln and Memorial Medical Center and St. John's Hospital in Springfield. CICBC is a division of the Mississippi Valley Regional Blood Center, which collects over 180,000 units of blood annually and serves 87 hospitals in Illinois, Iowa, Missouri and Wisconsin.
---